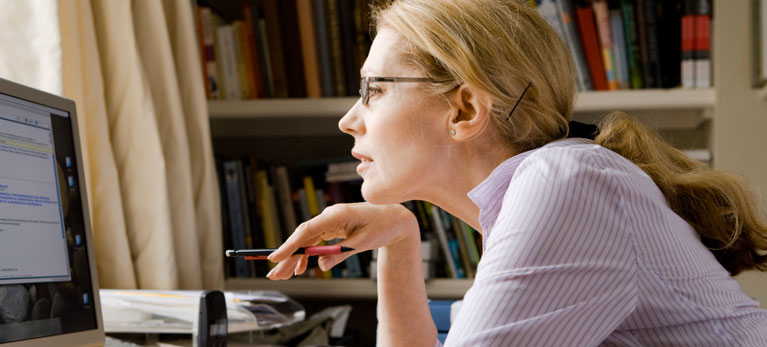 Troubleshooting D2L Login Problems
Troubleshooting Login Problems:
If you have trouble logging into your Desire2Learn (D2L) class, please consider the following before contacting the IT HelpDesk (847.635.1965) or the Alternative Education office (847.635.1970).
If you cannot log into MyOakton, then the problem is with your login ID or password. Your login ID and password are the same for all Oakton systems. If you contact the Help Desk or anyone about failure to log in, be sure to state exactly what you were logging into.
Case sensitivity (using UPPER or lower case) is NOT important for MyOakton but it is important for other systems. If for some reason you bypass MyOakton and log into an Oakton system directly, case may then be an issue. Your password will generally be the PIN you created when you applied to the College or whatever you most recently changed it to.
If you can log into MyOakton but do not see your course listed under MyCourses, you may have a registration issue, possibly a drop for non-payment. Check your status with Registration and Records (847.635.1705). If you can see your course listed under MyCourses but clicking on it takes you to the D2L home page, your class is likely not open yet to students. You can contact your instructor for more information. Most D2L classes will not open before the date listed in the College class schedule but if you've been told yours will open early and hasn't, it's important that you check with your instructor.
If you click the link to your class under MyCourses but it takes you to a general description of the class or to another site that seems relevant to the class, your course likely is not using D2. Students in classes that only meet online should contact the Alternative Ed office. Other students should contact their instructor.
If you click the link to your class under MyCourses but it takes you to an unrelated site, you may have a virus or spyware on your computer. Try from a different computer to confirm before calling for help. If you click the link to your class under MyCourses but the link "404's" or otherwise indicates you are not allowed to access the page, try from a different computer to confirm. If the problem persists only on one computer, call the Help Desk and be prepared to describe the locations where it worked and didn't work. Sometimes the problem will be your ISP or workplace blocking the connection.
Note: There are activities such as quizzes within a class that can be "conditionally" released based on the student ID, date, or other factors. These are controlled by your instructor. If you login successfully but have trouble opening one of these activities within the class, consult your instructor first.
Student Profile
View More of the Story
IMPORTANT DATES
June 13
Summer 2016 seven-week session classes begin.
June 13
Four-week first summer interim faculty grading due.
June 16
Last day to submit proof of residency, business service agreements and chargebacks/joint agreements.
June 23
Last day to change to Audit.
June 23
Last day to drop and have course dropped from record.
July 4
Independence Day holiday College closed.
July 5
Last day to withdraw with a "W" (no withdrawals after mid-term). Students will receive a grade in all courses in which they are enrolled after July 5.
July 21
Incomplete (I) grades from spring 2016 semester for which faculty have not submitted final grades will become an "F" after this date.