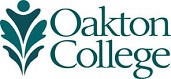 Environmental Graphiti: The Art of Climate Change
Artist Alisa Singer's digital paintings, printed on metal and derived from graphs, charts, and other scientific data, use contemporary abstract art to challenge and expand the way we think about climate change.
Artwork and merchandise will be available for purchase to benefit the Oakton Educational Foundation.

Sponsored by the Koehnline Museum, Oakton Educational Foundation, and the Division of Science and Health Careers.


Event Details
Through Saturday Feb. 25


First Floor, Lee Center, Des Plaines