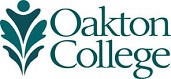 20th Annual Infant Toddler Conference
Join us as we honor the first three years of life. Our 2017 conference focuses on how we support infant and toddler learning in all developmental areas.
Presented by Oakton Community College in collaboration with The Ounce of Prevention Fund, Children's Home + Aid, and Gateways to Opportunity.
For complete information, visit the Conference Web page.
Registration is closed as all spaces have been filled.
Event Details
Saturday, March 4, 2017
7:30 a.m. - 2 p.m.
TenHoeve Center, Des Plaines