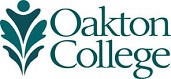 Jazzin' Around
Oakton's fantastic jazz combo will start your season jivin' with their big band sound. Instructor of music Mark Olen conducts Jazzin' Around with Oakton music faculty, friends, and featured guest artists the Niles West High School Jazz Band. Their brassy sounds will transform the Footlik stage into a showcase for classic memories and new jazz favorites.
For more information, call 847.635.1900.
Event Details
Friday, Jan. 20, 8 p.m.
$8/$5 student & senior
Footlik Theater, Des Plaines