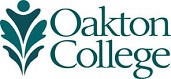 Des Plaines
Klein's compositions echo musical rhythm rendered by geometric and biomorphic shapes. Join us for an opening reception on Thursday, Dec. 7, 5 - 8 p.m.
Des Plaines
Currently seeking 4 African-American men, 2 African-American women, 1 Asian-American woman, 1 Caucasian man, 1 Caucasian woman.
Skokie
Learn about Oakton's 8-week training program, employers who are looking to hire qualified graduates, and available funding. Registration is required.
Des Plaines
Seeking students, employees, and community members that identify as female.
des plaines, skokie
Qualifying students complete their first two years of coursework at Oakton — and are guaranteed admission to UIUC to complete their four-year degree.
Des Plaines
The Lasting Impact of Early Connections: Recognizing the Value of your Work with Children, Families, and the Profession