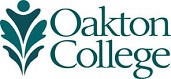 Student Art on Display at Oakton
OakArt 2011, an annual exhibition to celebrate the creativity of student artists, opens Thursday, March 31, with a reception from 5 – 8 p.m., at Oakton's Koehnline Museum of Art on the Des Plaines campus.
On view through Friday, April 22, the student exhibition features paintings, drawings, sculpture, ceramics, digital art and photography.
The Koehnline Museum of Art is open 10 a.m. – 6 p.m., Monday through Friday, and 11 a.m. – 4 p.m., Saturday.  For more information, call 847.635.2633, or visit www.oakton.edu/museum.