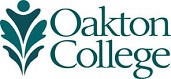 KISS-FM Visits Oakton July 21, 25
Is your radio dial permanently tuned to 103.5 KISS-FM? Then stop by Oakton's Skokie campus on Thursday, June 21 or the Des Plaines campus on Monday, July 25 — the station will bring its street team to both sites between 11 a.m. and 1 p.m.
KISS-FM will be handing out giveaways, including Sobe Lifewater. Stop by and bring a friend along to check out Oakton!