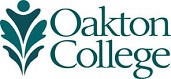 Women's Hoopster Earns Player of the Week Honors
The National Junior College Athletic Association (NJCAA) honored Amber Patterson-Moss, a guard on the Oakton women's basketball team, as its Region IV Division II District D Player of the Week on Monday, January 9.
In two games played December 20, 2011 through January 8, 2012 – both Oakton victories – the 5-6 freshman tallied 43 points, 21 rebounds, 18 assists, and eight steals. Patterson-Moss currently leads the Raiders (12-3) with 18.5 points and 4.3 assists per game.
"The best word to describe Amber is relentless," said head women's basketball coach Rich Bolinder. "She has a strong will to win and is constantly working to improve all facets of her game."