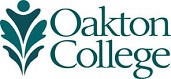 News from Oakton: February 14, 2012
Explore Health Care Careers
Free Information Session Offered at Oakton
Interested in a health care career? Then you won't want to miss free upcoming information sessions at Oakton. These seminars showcase Oakton's degree and certificate programs. Faculty will be on hand to discuss course requirements and industry trends.
Radiologic technician information session: Wednesday, February 22, at 5 p.m., at Oakton's Des Plaines campus, 1600 East Golf Road (Room 1603). According to the Bureau of Labor Statistics (BLS), employment for clinical laboratory workers is expected to increase by 14 percent from 2008 to 2018, faster than the average for all occupations.
Pharmacy technician/aseptic pharmaceutical preparations information session: Tuesday, February 28, at 6 p.m., at Oakton's Skokie campus, 7701 North Lincoln Avenue (Room A151).
To reserve your place in either session, visit www.oakton.edu/healthcareers or call 847.635.1700.

Oleanna Lands at Oakton This Weekend
Catch the controversial staged reading of David Mamet's Oleanna, which focuses on a university professor accused of sexual harassment by his female student.

Over the course of three acts, John, who is on the verge of tenure, and his student Carol become embroiled in a power struggle and war of words – leading to a shocking conclusion.
Oleanna will be performed at 8 p.m., Saturday, February 18, and 2 p.m., Sunday, February 19. Tickets are $8 – call 847.635.1900.



"Come Together" to celebrate Assyrian culture at Oakton on Friday, February 21.
As part of "Coming Together in Skokie 2012," an annual program that builds knowledge, awareness, and appreciation of the various ethnic heritages that comprise the Village of Skokie, Oakton's Library will host a book discussion on the classic poem, the Epic of Gilgamesh. Discover how this ancient tale has changed our understanding of Western culture. This seminar will take place from 12:30 – 1:45 p.m. (Oakton's Des Plaines campus, 1600 East Golf Road, Room 1610). Admission is free.
Additional "Coming Together in Skokie 2012" events at Oakton include:


Children of War: Voices of Iraqi Refugees – A Book Discussion, 12:30 – 1:45 p.m., Wednesday, February 29 (Oakton's Skokie campus, 7701 North Lincoln Avenue, Room P103). Attend a forum about author Deborah Eillis' book that provides first-hand accounts of children displaced by war in Iraq.
Assyrians in Chicago History, 11 a.m. – 12:30 p.m., Thursday, March 1 (Room P103, Skokie campus). Homer Ashurian, executive director of Chicago's Assyrian Universal Alliance Foundation, and Vasili Shoumanov, author of Assyrians in Chicago, shed light on the role Assyrians have played in the Windy City.
To view the entire schedule of "Coming Together in Skokie2012" events, visit http://ComingTogether.skokielibrary.info.
For more information about Oakton's participation, contact Rose Novil at 847.376.7632 or rnovil@oakton.edu.

Kita y Fernanda Kicks off Women's History Month at Oakton
Celebrate Women's History Month by attending a performance of Kita y Fernanda. The play will presented March 1 – 4, and March 8 – 11, by the Performing Arts at Oakton.
A timely look at class, immigration, and women's friendships, this Jeff-nominated play by Tanya Saracho, one of Chicago's leading new playwrights, tells the tale of Fernanda, the privileged daughter of a wealthy Mexican family living in Texas, and Kita, the child of the family's undocumented Mexican maid. A chance meeting many years later prompts a flood of memories about growing up in the same household.
Enjoy a special $5 preview Thursday, March 1 at 8 p.m. Regular performances are scheduled:
Friday, March 2, at 8 p.m.
Saturday, March 3, at 8 p.m.
Sunday, March 4, at 2 p.m.
Thursday, March 8, at 7:30 p.m.
Friday, March 9, at 8 p.m.
Saturday, March 10, at 8 p.m.
Sunday, March 11, at 2 p.m.
Kita y Fernanda will be staged at Oakton's Studio One, 1600 East Golf Road, Des Plaines.
Tickets are $10 for general admission; $8 for students and seniors; and $6 for groups of 15 or more – call 847.635.1900 to purchase.
To view other events to celebrate Women's History Month at Oakton, visit www.oakton.edu.whm.

Plan a Campus Visit to Oakton
Find out why Oakton is the ideal place to start or continue your college education during a campus visit on Wednesday, March 7
Sponsored by the Office of Student Recruitment and Outreach, the tour of Oakton's Skokie campus, 7701 North Lincoln Avenue, will feature information about admission, career and transfer programs, financial aid, student services, and extracurricular activities. Oakton faculty, administrators, staff, and students will be available to answer questions.
Oakton offers associate's degrees and certificate programs for students planning to move on to four-year colleges or universities, as well as those preparing for employment in a variety of careers. Accredited by The Higher Learning Commission of the North Central Association of Colleges and Schools, the College is recognized by the Illinois Community College Board and is a member of the American Association of Community Colleges.
The tour will begin at 6 p.m. in Room P103. To register, call 847.635.1835 or visit www.oakton.edu/visit.