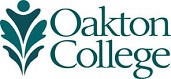 News from Oakton: April 17, 2012
Oakton's IT Club Flexes Muscle at National Conference
Oakton's chapter of the Association of Information Technology Professionals (AITP) earned top honors at the AITP National Conference held March 29 – 31 in San Antonio.

In the Student Web Project Contest, the team of Robyn Alexander (Glenview), Elena Papastefan (Morton Grove), and Scott Andrews and Patrick Keenan (both of Park Ridge) captured first place, finishing ahead of eight other contenders from around the nation. The competition involved building a Web site for a nonprofit organization. Oakton's winning entry was for the Lombard Juniors Women's Club.

Doris Gronseth and Michele Reznick, professors of computer technologies and information systems, serve as advisors for the club.

AITP, a professional organization of information technology business professionals, has more than 200 student chapters throughout the United States.
Latinos for Higher Education Forum Scheduled April 21
It's never too early to start planning for the future! Learn about the American higher education system, paying for college, exploring careers, and the options available to Latino students at Oakton on Saturday, April 21.

Planning for the Future: Latinos for Higher Education Forum is scheduled from 2 – 5 p.m., at Oakton's Skokie campus, 7701 North Lincoln Avenue (Room P103) and features higher education experts and representatives from area colleges and universities. The workshop also includes information on the federal and Illinois DREAM Acts. George Van Dusen, mayor of the Village of Skokie, will give the forum's opening address.

Free child care service and refreshments will be available. Advanced registration is encouraged by e-mailing Luis Caballero at lcaballe@oakton.edu.
Perchance to Dream on April 21
Enjoy dinner, dancing, and diversions at Perchance to Dream, on Saturday, April 21, to honor Oakton President Margaret B. Lee and celebrate the Oakton Educational Foundation's 35th anniversary.

The spring benefit for Oakton's Student Scholarship Fund includes a lively cocktail hour, delicious three-course meal, music by the Bradley Young Orchestra, and entertainment by Shakespearean actors. The gala begins at 6:30 p.m., at the Metropolis Ballroom, 6 South Vail Street, Arlington Heights.

Lead sponsors include Allstate; Aon Corporation; Crain-Maling Foundation; Footlik and Associates; Robbins, Schwartz, Nicholas, Lifton & Taylor, Ltd; and Underwriters Laboratories, Inc.

Established in 1977, the Educational Foundation has benefited thousands of students, faculty, and staff by supporting College initiatives not met by public funds.

Tickets are $150. Call 847.645.1893 to reserve yours now.
Celebrate Art and Activism
What does it mean to be a politically engaged artist today? What does art designed to change the world look and sound like? Find out the answer to these questions at Creating Justice on Saturday, April 21, at Oakton.

The all-day symposium explores the diverse ways activism engages the arts, and the way art transforms our communities – and the world.

Schedule of events include:


10:15 a.m. – Keynote address by New York-based Strike Anywhere Performance Ensemble. The group produces politically-charged, original works that deal with socially relevant issues and has appeared on National Public Radio, German Public Radio, and U.S. television. 
11:45 a.m. – 4:45 p.m. – Take in workshops and panels on dance, music, and poetry.
6 – 9 p.m. – Enjoy a global food fair.
7 p.m. – Catch a live performance by Ugochi and Afro Soul Effect. The band is fronted by Nigerian lead singer Ugochi Nwaogwugwu. Musicians also include Shawn Wallace (keyboards/vocals), Deshon Newman (percussion), Jeff Harris (bass), and Justin Boyd (drums).
Creating Justice is sponsored by Oakton's Humanities and Philosophy and Performing Arts Departments, and the Peace and Social Justice and Women's and Gender Studies Program.
Tickets are $20. Register at www.oakton.edu/creatingjustice.
Miss Illinois Visits Oakton April 24
Hannah Smith, the 2012 Miss Illinois, will visit Oakton on Tuesday, April 24, to discuss her experience in the Miss America Pageant and her responsibilities as Miss Illinois.

Admission is free, but a donation to Miracle Makers, which supports children's hospitals in the community and across the country, is strongly encouraged. Friendship bracelets will be sold for $1 and autographed pictures of Smith will be available for $2.50, with proceeds supporting Miracle Makers.

Smith will appear from 7 – 9 p.m., in the President's Board Room of the Des Plaines campus, 1600 East Golf Road. Seating is limited.
Explore a Career in Nursing
Free Information Session Offered at Oakton
Interested in a nursing career? Then you won't want to miss a free information session at Oakton on Thursday, April 26.

This seminar, which showcases the College's degree and certificate programs in this health career program, is scheduled at 6 p.m., at Oakton's Des Plaines campus, 1600 East Golf Road (Room 1610). Faculty will be on hand to discuss course requirements and industry trends.

The Occupational Outlook Handbook reports that employment for registered nurses is expected to increase by 26 percent from 2010 to 2020, faster than the average for all occupations.

To reserve your place in the session, visit www.oakton.edu/healthcareers or call 847.645.1700.
Panelists Speak on Japanese-American Internment During World War II
Attend a free lecture at Oakton on Thursday, April 26 and learn about the anti-Japanese hysteria that swept the United States after December 7, 1941

"The History and Remembrance: The Internment of Japanese-Americans 1941-1946" will focus on the more than 120,000 people of Japanese descent, two-thirds of them citizens, who were held in internment camps after the bombing of Pearl Harbor.

Panelists include Bill Yoshino, Midwest director of the Japanese-American Citizens League; Chiye Tomihiro, a former internee; and Stephanie Cleveland, an Oakton alumna and graduate student at Roosevelt University. Remarks will also be provided by Oakton faculty, including Tom Hamel, Ph.D., vice president of academic affairs, Brad Wooten, dean of social sciences and business, and Wendy Sarti, professor of history.

The special afternoon also will feature a visual documentation exhibition produced by Anthony Stetina under the instruction of Judy Langston, Oakton professor of art and design, and Nathan Harpaz, curator of Oakton's Koehnline Museum of Art.
Sponsored by the Oakton Department of Historical and Policy Studies, the lecture will be presented 12 – 1:30 p.m. in Room 1610 of the Des Plaines campus, 1600 East Golf Road.
Oakton Six Piano Ensemble Performs April 28-29
The internationally acclaimed Six Piano Ensemble will perform two concerts of popular, classical, and ragtime selections at 8 p.m., Saturday, April 28, and 3 p.m., Sunday, April 29.

The program will feature works by Joseph Haydn, Muzio Clementi, Max Reger, Johannes Brahms, and Scott Joplin, all arranged for multiple keyboards by founder and conductor Glenna Sprague, professor and coordinator of music at Oakton.

The Oakton Six Piano Ensemble will display the musical talent of Beatriz Levi, Northfield; Garfield Sallman, Des Plaines; Viktoriya Gordiyenko, Morton Grove, and Manigirdas Motekaitis, Marianne Pyster, and Lina Schaal, all of Chicago.

This year, the Ensemble is proud to honor Levi, who is celebrating her 25th year as a member of the group.

The musicians will perform at the Footlik Theater, 1600 East Golf Road, Des Plaines. Tickets are $17 for general admission, $14 for students and seniors, and $12 for groups of 15 or more. For reservations, call the Oakton Box Office at 847.645.1900.