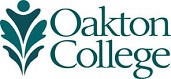 News from Oakton: June 5, 2012
Oakton Students Receive Academic Honors
Oakton students Jason Freeman of Park Ridge and Jennifer Koval of Skokie have been named to the 2012 Phi Theta Kappa All-Illinois Academic Team, a division of the All-USA Team for community colleges.
Freeman, a graduate of Maine South High School, and Koval, an alumna of Niles West High School, were among 81 students representing more than 40 community colleges throughout Illinois who were honored for their academic achievements, leadership, and community involvement at the 14th Annual Phi Theta Kappa Banquet in Springfield on April 18.
The All-Illinois Academic Team is sponsored by the Phi Theta Kappa, the international honor society for two-year colleges. Students nominated for this honor must be eligible to graduate during the 2011-2012 academic year and have a minimum cumulative grade point average of 3.5.
Freeman, an Eagle Scout with a 3.73 GPA, is the executive vice president of Oakton's Phi Theta Kappa chapter. He will transfer to the University of Michigan, where he aspires to study medicine. Koval boasts a 3.96 GPA and intends to major in education at Northern Illinois University. At Oakton, she served as the president of the Doctor Clown Club, an organization that spreads joy and laughter to sick children in hospitals and orphanages.
Oakton Names New Women's Basketball Coach
Dameon Mason is the new women's basketball coach at Oakton, Athletic Director Bruce Oates announced. Mason replaces Rich Bolinder, who retires this summer after 25 seasons.
A resident of North Aurora, Mason served as the high school varsity head boys coach at Chicago Waldorf School during the 2011-2012 season. He also is a Nike SPARQ (Speed, Power, Agility, Reaction, and Quickness) trainer, helping individuals enhance their athleticism.
"Mason is the right choice for continuing the winning tradition of women's basketball at Oakton," said Oates. "His mix of experience, playing on the college and professional level, coaching and skill training, give him a unique insight for coaching this team.
Even in a pool of strong coaching candidates, Mason stood out. His commitment to player development, including academic excellence, is outstanding. Just like Oakton, Mason believes athletics is a pathway to start an education here and go anywhere."
A former coach of a women's club team in Denmark, Mason played basketball collegiately at Marquette University and Louisiana State University. He also competed in the European Pro League and holds a bachelor's degree in communications from LSU.
Plan a Campus Visit to Oakton
Find out why Oakton is the ideal place to start or continue your college education!  Join us for two campus visits this month.
On Wednesday, June 6, stop by Oakton's Skokie campus 7701 North Lincoln Avenue, Room P103.  The following Monday, June 11, you can check out Oakton's Des Plaines campus, 1600 East Golf Avenue, Performing Arts lobby.  Both events – which begin at 5:30 p.m. -- will feature information about admission, career and transfer programs, financial aid, student services, and extracurricular activities. Oakton faculty, administrators, staff, and students will be available to answer questions.
Oakton offers associate's degrees and certificate programs for students planning to move on to four-year colleges or universities, as well as those preparing for employment in a variety of careers. Accredited by The Higher Learning Commission of the North Central Association of Colleges and Schools, the College is recognized by the Illinois Community College Board and is a member of the American Association of Community Colleges.
To register, call 847.635.1835 or visit www.oakton.edu/visit.
Audition for Play On at Oakton
Have you been struck by the acting bug? Auditions for Play On, the only community college playwriting festival in the state, are scheduled Monday, June 11, and Tuesday, June 12.
Play On features seven daring, hilarious, and philosophical one-act plays written and directed by Illinois community college students. To bring these plays to life, festival directors will be casting men and women of all ages and ethnicities. Prepared monologues and cold readings will be heard 6 – 9 p.m., at Oakton's Studio One, 1600 East Golf Road, Des Plaines.
Play On will be staged July 24 – 26. For more information about auditions, call 847.635.1976.
Register Now for Fall Classes at Oakton
While it's too early to think about raking leaves, it's not too early to think about registering for fall classes at Oakton. Fall semester registration is now underway. Classes start Monday, August 20.
Fall semester class listings may be found online at www.oakton.edu, or in the Fall 2012 Credit and Noncredit Schedule, available at the Des Plaines and Skokie campuses, 1600 East Golf Road, and 7701 North Lincoln Avenue. Students may register in person at both campuses, 8:30 a.m. – 7 p.m., Monday through Thursday. Students with a current application on file may register online at my.oakton.edu.
For more information about classes, call 847.635.1741 (Des Plaines), or 847.635.1400 (Skokie).