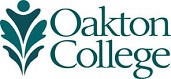 News from Oakton: July 31, 2012
Oakton's Early Child Education Center Renews National Accreditation
The National Association for the Education of Young Children (NAEYC), the nation's leading organization of early childhood professionals, recently reconfirmed accreditation of the Early Childhood Education (ECE) Center at Oakton's Des Plaines campus. The accreditation is valid through 2017, the NAEYC's maximum of five years.
"We're ecstatic to have earned the mark of the quality from NAEYC once again and to be recognized for our commitment to obtaining the highest early childhood program standards," said Nora Rucker, site coordinator for the ECE Center at the Des Plaines campus. "The accreditation lets families in the community know that children are receiving the best care and education in our program."
To earn NAEYC accreditation, Oakton's ECE Center went through an extensive self-study process, measuring the program and its services against the 10 NAEYC early childhood program standards and more than 400 related accreditation criteria. Oakton's program received NAEYC accreditation after an on-site visit by NAEYC assessors to ensure that the program meets each of the 10 program standards. NAEYC-accredited programs are also subject to unannounced visits.
In the 25 years since NAEYC accreditation was established, it has become a widely recognized sign of high-quality early childhood education. More than 7,000 programs are currently accredited by NAEYC – approximately eight percent of all preschools and other early childhood programs.
Established in 1972, the Des Plaines facility (1600 East Golf Road) provides full-day programs for 2-to-5-year olds. The center also serves as a lab for ECE academic students who are completing their teacher preparation requirements.
For more information, contact Rucker at 847.635.1840 or nrucker@oakton.edu.
Audition for Oakton String Ensemble
Can you make strings sing? The Oakton String Ensemble is looking for violin, viola, cello, and double bass players with prior experience for the 2012-2013 season.
The lively ensemble, entering its third season, performs several times a year on campus with occasional off-campus appearances. Recent performances have included everything from Vivaldi, Corelli, and Schubert to Bartok, Joplin, New Orleans jazz, and Bollywood music.
Rehearsals are Mondays 5:30 – 7:30 p.m., at Oakton's Des Plaines campus, 1600 East Golf Road. Occasional extra or alternate rehearsals may be needed.
For more information or to schedule an audition, contact Daniel Golden, director, at dgolden@oakton.edu.
Register Now for Fall Classes at Oakton
While it's too early to think about raking leaves, it's not too early to think about registering for fall classes at Oakton. Fall semester registration is now underway. Classes start Monday, August 20.
Fall semester class listings may be found online at www.oakton.edu, or in the Fall 2012 Credit and Noncredit Schedule, available at the Des Plaines and Skokie campuses, 1600 East Golf Road, and 7701 North Lincoln Avenue. (District residents also received them in the mail.) Students may register in person at both campuses, 8:30 a.m. – 7 p.m., Monday through Thursday. Students with a current application on file may register online at my.oakton.edu.
For more information about classes, call 847.635.1741 (Des Plaines), or 847.635.1400 (Skokie).
Upcoming Health Career Info Sessions
Interested in a health career? Oakton has three free information sessions during the month of August.
Upcoming sessions include:
Radiologic Technology
Wednesday, August 1, 2 p.m.
Room A151, Skokie campus
Pharmacy Technician and Aseptic Pharmaceutical Preparations
Wednesday, August 1, 6 p.m.
Room 1506, Des Plaines campus
Nursing
Thursday, August 2, 3 p.m.
Room A145/152, Skokie campus
Seminars showcase the College's degree and certificate programs in these health career programs. Faculty will be on hand to discuss course requirements and industry trends.
To reserve your place in a session, visit www.oakton.edu/healthcareers or call 847.635.1700. 
Eyewitness: Works by Morris Topchevsky Comes to Oakton
View the work of Chicago artist and social crusader Morris Topchevsky (1899-1947) at an exhibition that runs August 2 – September 21, at Oakton's Koehnline Museum of Art.
The collection is a true treasure trove – one that almost didn't come to light. In 2001, Nathan Harpaz, curator of Oakton's Koehnline Museum of Art, was visiting the Skokie residence of Topchevsky's late brother Alex Topp, a painter. His widow invited Harpaz to explore Topp's studio – untouched since he had passed away. Harpaz discovered a gold mine of sorts. High up near the ceiling, he found dozens of paintings by Topp's brother, Morris.
Topchevsky's work provides striking examples of his artistic activism. As a young immigrant on the city's Near West Side, Topchevsky became sensitized to the plight of the poor. Inspired by social reformer Jane Addams, Topchevsky served as a resident art instructor at Addams' Hull-House settlement and in later years at the Abraham Lincoln Center on Chicago's South Side. Besides the disenfranchised, his work also featured idyllic images of Mexico's and New Mexico's indigenous culture and physical landscape.
Eyewitness: Works by Morris Topchevsky presents this politically radical artist's diverse survey of work, illuminating his creative responses to varied geographic and sociopolitical environments during the first half of the 20th century.
On opening night attend a public reception with refreshments from 5 - 8 p.m.
The Koehnline Museum of Art, 1600 East Golf Road, Des Plaines, is currently operating under its summer hours and is open Monday through Thursday, 10 a.m. - 7 p.m.