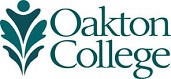 News from Oakton: October 30, 2012
Oakton Art Faculty Shine at ID Show 2012
Oakton's talented art faculty will showcase some of their best work starting Thursday, November 1, at ID Show 2012, a free exhibition at the Koehnline Museum of Art, 1600 East Golf Road, Des Plaines.
ID Show 2012 features distinctive paintings, photography, ceramics, and digital art. Included in this year's show are works by Jeremi Bialowas, Alicia Chester, Peter Hessemer, Moritz Kellerman, James A. Krauss, Berney Krule, Judy Langston, William Moll, Mark Palmeri, Lou Pierozzi, Davida Schulman, and Sharon Swidler.
On opening night, the public is invited to meet the artists at a free reception with refreshments, from 5 - 8 p.m. The exhibition runs through Wednesday, November 21.
The Koehnline Museum is open Monday through Friday, 10 a.m. – 6 p.m., and Saturday, 11 a.m. – 4 p.m.
For more details, call 847.635.2633, or visit www.oakton.edu/museum.
It's Not Easy Being Green: Help Oakton's Forests Thrive
Oakton's scenic Des Plaines campus sits among 174 wooded acres along the Des Plaines River, next to a Cook County Forest Preserve. Home to deer, coyotes, owls, and a wide range of wildlife, this precious "green jewel" is in need of restoration. Join the Ecology Club and help with its ongoing forest preservation efforts, 9 a.m. – 1 p.m., Saturday, November 3, at the Des Plaines campus, 1600 East Golf Road.
Volunteers will meet at the north end of Parking Lot A, rain or shine. Continental breakfast will be served at 8:30 a.m. Youth workers (age 16 and younger) must be accompanied by an adult.
Volunteers will cut and burn European buckthorn and other invasive plants and also may observe a "controlled burn" if conditions allow. Wear warm, comfortable work clothes and boots. Gloves, eye protection, and tools will be provided.
Registration is required. To participate, RSVP to ecoakton@gmail.com.
Discover Your Future . . . in Early Childhood Education
Early childhood education is one of the fastest growing career fields, and is expected to increase by 20 percent from 2012 – 2020, according to the Occupational Outlook Handbook. In November, find out more during three information sessions at Oakton's campuses, 7701 North Lincoln Avenue, Skokie, and 1600 East Golf Road, Des Plaines.

Upcoming sessions include:
Tuesday, November 6
12:30 p.m., Room C140, Skokie.
Wednesday, November 7
12:30 p.m.,  Room 2140, Des Plaines
5 p.m., Room 2462, Des Plaines
Sessions showcase the College's early childhood education degrees and certificates. Also learn about Illinois credentials and transfer agreements. Get the answers to your questions from professionals, including which courses to take. Light refreshments will be served.
For more information, contact Sheila Kerwin-Maloney at 847.635.1752, keelawee@oakton.edu, or Mary Pat Martin at 847. 376.7057, mpmartin@oakton.edu.
Health Career Information Sessions Scheduled at Oakton in November
Discover the exciting world of health care careers. Oakton will host free information sessions in November at the Des Plaines campus, 1600 East Golf Road.
Upcoming discussion groups include:
Pharmacy Technician/Aseptic Pharmaceutical Preparations
Wednesday, November 7, at 4 p.m. (Room 2822).
Physical Therapist Assistant,
Wednesday, November 7, at 4 p.m. (Room 1606).
Nursing,
Wednesday, November 14, at 3 p.m. (Room 1608).
Radiologic Technology
Wednesday, November 14, at 6 p.m. (Room 1605).
Health Information Technology
Wednesday, November 14, at 6 p.m. (Room 1608).
Medical Laboratory Technology and Phlebotomy
Wednesday, November 28, at 11 a.m. (Room 1604).
Seminars showcase Oakton's degree and certificate offerings in these health care career programs. Faculty will be on hand to discuss course requirements and industry trends.
To reserve your spot in a session, visit www.oakton.edu/healthcareers or call 847.635.1700.
Celebrate the Art and Music of Nature at Oakton
While the fall foliage is in peak season, Oakton's faculty and students aim to peak your interest with The Art and Music of Nature, a collaborative presentation and performance involving Oakton's departments of art and music. This free event takes place 8 - 9 p.m., Friday, November 9, at Oakton's Performing Arts Center Lobby, 1600 East Golf Road, Des Plaines.
Surrounded by environmental photographs and ceramics created by Oakton art students, under the direction of Judy Langston, art and graphic design professor, and Lou Pierozzi, professor of art, Oakton music students who study guitar with Tom Clippert, piano with Glenna Sprague, strings with Daniel Golden, and woodwinds with Robert Evans will play nature-themed pieces. In addition, Clippert and Sprague will perform duets. Musical selections will include "Singin' in the Rain," "Over the Rainbow," "Maple Leaf Rag," "Wild Horseman," "La Rose," and selections from Vivaldi's Four Seasons.   
For more information, contact 847.635.1900.
College Closed in Observance of Veterans Day
Oakton's campuses in Des Plaines (1600 East Golf Road) and Skokie (7701 North Lincoln Avenue) will be closed on Sunday, November 11, and Monday, November 12, in honor of Veterans Day. Classes resume on Tuesday, November 13.
Chicago Author Karen Skalitzky Sheds Light on Homelessness
Every night in Illinois, an estimated 14,000 people experience some form of homelessness. Chicago author Karen Skalitzky will shed light on this growing problem during two presentations on Tuesday, November 13, at Oakton's Skokie campus, 7701 North Lincoln Avenue (Rooms A103-104). Both sessions - 11 a.m. and 12:30 p.m. – are free and open to the public.
Skalitzky's book, A Recipe for Hope: Stories of Transformation by People Struggling with Homelessness, shares the stories of men and women involved with the Inspiration Corporation, a Chicago nonprofit that offers social services, employment training and placement, and housing to the homeless. These first-hand accounts challenge the preconceptions of homelessness and demonstrate how this problem that impacts millions of Americans affects people regardless of race, creed, or economic status. The book will be available for $10 at each presentation; proceeds benefit the homeless.
For more details, contact Marvin Bornschlegl at 847.635.1845 or mbornsch@oakton.edu.
Explore Your Next Step . . . at Oakton
Find out why Oakton is the ideal place to start or continue your college education during a visit to the College's Skokie campus, 7701 North Lincoln Avenue, on Thursday, November 15, starting at 5:30 p.m., in Room P103-104.
Sponsored by the Office of Student Recruitment and Outreach, the tour will feature information about admission, career and transfer programs, financial aid, student services, and extracurricular activities. Oakton faculty, administrators, staff, and students will be available to answer questions.
Oakton offers associate's degrees and certificate programs for students planning to move on to four-year colleges or universities, as well as those preparing for employment in a variety of careers. Accredited by The Higher Learning Commission of the North Central Association of Colleges and Schools, the College is recognized by the Illinois Community College Board and is a member of the American Association of Community Colleges.
To register, call 847.635.1835 or visit www.oakton.edu/visit.