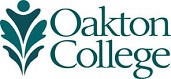 News from Oakton: October 1, 2013
Oakton Biology Student Makes Rare Find in Des Plaines River
At first Oakton Community College sophomore Mike Buffo-Genyk thought he had found a tiny alien during an aquatic sampling of the Des Plaines River in his Introduction to Environmental Science class in September. Instead, he netted a Mississippi grass shrimp (Palaimonetes kadikensis), a crustacean native to the Mississippi River basin. While the Mississippi grass shrimp has been sighted previously in Illinois, this marks the first documentation of this species in Cook County, according to College officials.
Mississippi grass shrimp are tiny, translucent creatures about an inch long. This type of crustacean prefers a habitat with aquatic plants. Finding a Mississippi grass shrimp (sometimes referred to as a glass shrimp because of its transparency) in Illinois is rare due to the soil erosion that has clouded the water, killing the plants the shrimps needs to thrive.
Buffo-Genyk's assistant professor of biology Paul Gulezian was ecstatic about the sighting and quickly identified the creature through an Internet search. He said that the finding is significant because of what it means to the environment around the Des Plaines campus.
"When the Des Plaines River is polluted, creatures like the Mississippi grass shrimp can't survive," said Gulezian. "This is a positive sign because it shows that the river's ecosystem is improving."
Buffo-Genyk, a resident of Park Ridge and graduate of Maine South High School, said he had no idea that he would find something so noteworthy in his biology lab that day.
"I knew right away there was something special and unusual about it because it was so clear I could see the creature's inside," he said. "I'm just a college student and finding a rare species and contributing to science is an honor."
Added Gulezian, who released the creature back into the ecosystem in order for it to reproduce, "I knew right away it was a shrimp, but one I never saw before. This was an unexpected find and the shrimp looked like a ghost while it was swimming around."
Oakton's Bodies by Design Exhibition Opens October 3
Gendered embodiment has always been plastic: we adorn ourselves with piercings and tattoos; bind, confine, and refine our contours; and learn to move in and out of step with societal expectations. The Women's and Gender Studies Program at Oakton, in cooperation with the College's Koehnline Museum of Art, examines this subject during the free art show Bodies by Design: Modification, Coercion, and Resistance. This annual juried exhibit featuring more than 60 women artists from around the country and the world, opens Thursday, October 3, at Oakton's art museum, 1600 East Golf Road, Des Plaines.
The public is invited to meet the artists at a gala reception with refreshments, 5 – 8 p.m., on opening night. Bodies by Design runs through Friday, October 25.
Today, consumer society places unprecedented pressure on women and men to conform, while the proliferation of subcultures allows for ever more outrageous inventions and expressions. Bodies by Design features works by an eclectic array of women artists who are engaged with this issue, asking, "How do we survive and thrive in these extraordinary times?"
"We are thrilled not only by the beauty of the works in this year's show, but also by their depth of content," said Kathleen Carot, Oakton's Women's and Gender Studies coordinator. "People who attend the show will not only find much to admire, but also will leave with a great deal to think about. This year's artists really outdid themselves."
The Koehnline Museum of Art is open Monday through Friday, 10 a.m. – 6 p.m., and Saturday, 11 a.m. – 4 p.m.
The exhibition is sponsored in part by a generous grant from the Oakton Educational Foundation.
For more information, visit www.oakton.edu/wgs or contact Kathleen Carot at 847.376.7061, or kcarot.edu.
Oakton Increases Awareness about the Homeless on World Habitat Day
On a given night, approximately 750,000 people in America are homeless. Through October 5 – 11, Oakton students, faculty, and staff will call attention to this plight by filling the outside of the Skokie campus, 7701 North Lincoln Avenue, with shanties (crudely built shelters made from discarded material). On Monday, October 7, students will spend the night in their shanties to help raise funds for Habitat for Humanity.
Visitors can vote for their favorite shanty by adding a Habitat donation to the "Change for Change" paint cans outside the temporary shelters.
This is the third consecutive year that Oakton's Habitat for Humanity Campus Chapter has sponsored a "Shantytown." However, this marks the first time the organization has held the "sleepover" on World Habitat Day, observed annually worldwide on the first Monday of October. Designated by the United Nations and first celebrated in 1986, the day is meant to be a time to reflect on the human right for adequate shelter.
"I'm always moved by the commitment of the students to this cause," said Oakton's Coordinator of Human Services and Substance Abuse Counseling Programs Marvin Bornschlegl, advisor to the College's Habitat chapter. "Every year more students get involved, which means more people are being educated about the difficulties that homeless people face. To me, that's the most important part of this project."
Also to mark World Habitat Day, Oakton's Habitat chapter will sponsor a presentation and panel discussion about homelessness from 6:30 – 8 p.m., Monday, October 7, at the College's Skokie campus (Rooms A145-152) led by Chicago author Karen Skalitzky.
Skalitzky, a Northwestern graduate and former Teach for America corps member, penned the book A Recipe for Hope: Stories of Transformation by People Struggling with Homelessness, which challenges modern preconceptions about the destitute people who are without permanent shelter and how this problem affects everyone regardless of race, color, creed, or economic status. The panel will consist of individuals featured in her book. Copies of A Recipe for Hope: Stories of Transformation by People Struggling with Homelessness will be available for $10 with proceeds benefiting the homeless.
Shantytown participants also will share their experiences during a free panel discussion on Monday, October 21, starting at 6 p.m., at Oakton's Des Plaines campus, 1600 East Golf Road, in Room 2701.
For more details, contact Marvin Bornschlegl at 847.635.1845, or mbornsch@oakton.edu.
Discover All that Oakton Has to Offer During Campus Visit
"Start here. Go anywhere." Find out why these words ring true by visiting Oakton Community College, 1600 East Golf Road, Des Plaines, on Wednesday, October 9, at 6 p.m., in Room 1550.
Sponsored by the Office of Student Recruitment and Outreach, the tour will feature information about admission, career and transfer programs, financial aid, student services, and extracurricular activities. Oakton faculty, administrators, staff, and students will be available to answer questions.
Oakton offers associate's degrees and certificate programs for students planning to move on to four-year colleges or universities, as well as those preparing for employment in a variety of careers. Accredited by The Higher Learning Commission of the North Central Association of Colleges and Schools, the College is recognized by the Illinois Community College Board and is a member of the American Association of Community Colleges.
To reserve your place, call 847.635.1835 or visit www.oakton.edu/visit.
Noises Off Will Have You Rolling in the Aisles
Take a hilarious peek backstage with Michael Frayn's classic farce Noises Off, which will leave you rolling in the aisles. This classic play, which has been delighting audiences for 30 years, takes the stage October 10 – 13, and October 17 – 20, at Oakton's Footlik Theater, 1600 East Golf Road, Des Plaines.
As the cast of the second-rate comedy Nothing On tours backwater theaters, they struggle with missed cues and lines, misbehaving props and sets, offstage shenanigans, and onstage bedlam. Rapidly deteriorating relationships add to the actors' woes as every rehearsal and performance hit uproarious show business bumps.
Enjoy a special $5 preview Thursday, October 10, at 8 p.m.
Regular performances are scheduled:
Friday, October 11, at 8 p.m.
Saturday, October 12, at 8 p.m.
Sunday, October 13, at 2 p.m.
Thursday, October 17, at 7:30 p.m.
Friday, October 18, at 8 p.m.
Saturday, October 19, at 8 p.m.
Sunday, October 20, at 2 p.m.
Tickets are $12 for general admission; $10 students and seniors; and $8 for groups of 15 or more. Call 847.635-1900 to purchase.
Defamation: A Courtroom Drama with a Twist
Race, religion, and class collide in a riveting courtroom drama with a twist: the audience is the jury! Defamation, penned by Chicago playwright Todd Logan, will be presented for free at 2 p.m., Wednesday, October 16, at Oakton's Des Plaines campus, 1600 East Golf Road (Room 1610), and 2 p.m., Tuesday, October 22, at the Skokie campus, 7701 North Lincoln Avenue (Rooms P103-P104).
Since 2010, Defamation has been staged at high schools, universities, law schools, civic and religious organizations, and places of businesses in Chicago and around the country. Each performance is followed by "jury" deliberation. Once a verdict is reached, join the playwright and cast for a question and answer session.   
"Whether we like it or not, we still have major divides in this country," says Logan. "Most of us go to bed at night in cities, communities, and neighborhoods that are segregated by race, religion, ethnicity, and/or class. I wanted to write a play that encourages greater tolerance and understanding by spurring self-examination and promoting compelling civil discourse."
Presented by Canamac Productions, Defamation is a twist on the he-said-she-said story. African American businesswoman Regina Wade, the owner of a design firm on Chicago's South Side, brings a civil defamation suit against Arthur Golden, a real estate developer from an affluent, white community from the North Shore. Wade claims Golden ruined her reputation and her business by accusing her of stealing his heirloom watch during a business meeting. During the trial, lawyers on both sides elicit testimony regarding segregated neighborhoods and private club memberships, racial and religious discrimination, and the hardships and privilege of class.
Oakton's Office of Access Equity, and Diversity is sponsoring the play. For more information, contact Karishma Brownlee at 847.635.1751 or kbrownlee@oakton.edu.
Start a Bright Career in Radiologic Technology at Oakton
Careers in health care are thriving! Start your journey toward a two-year degree in radiologic technology when Oakton's Des Plaines campus, 1600 East Golf Road, hosts a free information session on Wednesday, October 16, at 5 p.m., in Room 1605.
Through Oakton's program, students learn how to produce radiographic images of the human body for use in diagnosing medical conditions. The curricula is a partnership between the College and the St. Francis School of Radiography in Evanston.
And radiologic technicians are in demand! The Occupational Outlook Handbook reports that employment in this field is expected to grow by more than 22 percent by 2020. Qualified radiologic technologists are needed in hospitals, clinics, physicians' offices, industry, and public health.
Oakton faculty will be on hand to discuss course requirements and industry trends.
To reserve your place, visit www.oakton.edu/healthcareers or call 847.635.1700.
Oakton Hosts Workshop Focusing on Teen Depression
Recent surveys indicate that as many as one in five teens suffers from clinical depression, which can lead to substance abuse and suicidal thoughts or actions. Oakton Community College's Skokie campus, 7701 North Lincoln Avenue, will host a workshop about teen depression on Friday, October 18, from 8:30 a.m. – 4:15 p.m.
Designed for teens, parents, and health professionals, "Voice of Depression: The Unique and Honest Perspective of Teens and Their Parents: A Workshop to Share Challenges, Strategies, and Resources," will feature experts in the field of suicide prevention, and treatment. Erika's Lighthouse, a nonprofit organization based in Winnetka that raises awareness of adolescent depression and mental health for young people, is sponsoring the seminar.
Erika's Lighthouse representatives Peggy Kubert, MA, LSCW, executive director, and Heather Steward, LSW, director of programming and communications, will facilitate the discussion. Teens from the Winnetka-based organization, along with David Clark, Ph.D., assistant dean for clinical research and professor of psychiatry at the Medical College of Wisconsin's department of psychiatry and behavioral medicine, also will assist in leading the workshop.
Panel members will include: Thomas Golebiewski, Ph.D., LCSW, a psychotherapy private practitioner; Al Ross, MA, LCSW, youth, family, and community coordinator for Family Service of Glencoe; David Schreiber, MD, executive director of Compass Health Center in Northbrook; and Mary Waldon, MSW, LCSW, a professional from Change Therapy in Winnetka who specializes in change-oriented psychotherapy for teens, young adults, and their families. These experts will share the latest information on topics including suicide, stress, anxiety, psychopharmacology, dialectic behavioral therapy, and substance abuse.
Registration is $100 ($125 the day of the event) and continuing education hours will be offered to social workers, counselors, therapists, and teachers. To register, call 847.635-1934 or visit www.oakton.edu/all.
In Perfect Harmony: How Do Music and Math Relate?
Discover how math and music are intertwined at a free lecture at 2 p.m., Tuesday, October 22, at Oakton Community College's Des Plaines campus, 1600, East Golf Road (Room 1604).
David Kung, Ph.D., professor of mathematics at St. Mary's College of Maryland, presents "Harmonious Equations: A Mathematical Exploration of Music" as part of Oakton's STEM (science, technology, engineering, and mathematics) Speaker Series.
This engaging lecture will feature live musical examples on violins. Learn how algebra plays a role in Bach's magnificent canons and fugues; understand the mathematical principles behind the clarinet's ability to play lower than the flute; and unearth the connection between calculus, differential equations, and our ability to hear timbre.
Kung earned his doctorate in mathematics at the University of Wisconsin, Madison. His DVD course, "How Music and Mathematics Relate," was recently released by The Teaching Company. The author of numerous articles on harmonic analysis and mathematics education, Kung is a recent recipient of the Teaching Award from the Mathematical Association of America.
Oakton's Center for Promoting STEM and the Student Government Association are sponsoring this presentation. For more information, contact Gloria Liu at 847.635.1738 or glorial@oakton.edu.