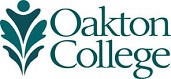 News from Oakton May 6, 2014

Oakton Students Receive Leadership Awards
Oakton's Board of Trustees honored five College students – Samuel Dussey of Skokie; Eleanor Lyon of Evanston; Edet Nsemo of Chicago; Jason Nwosu of Des Plaines; and Norman Petroski of Des Plaines – with Outstanding Leadership Awards at the Student Leadership Banquet held May 1, at Chateau Ritz in Niles. The tribute, given for more than 30 years, is the highest distinction a student involved in Oakton co-curricular life can receive. Recipients must be in good academic standing and demonstrate the characteristics of leadership, integrity, and dedication in their roles on campus.
Dussey participated in men's basketball as well as the African Student Club and Lyon was active with the student newspaper, Phi Theta Kappa Honor Society, an international honor society for two-year colleges, and the Emerging Leaders Program. Nsemo was involved with the Student Government Association, Nwosu served as Student Trustee and a member of the Student Government Association, and Petroski contributed to the Habitat for Humanity Club. Each winner received a $300 scholarship.
"These students were recognized for their contributions to student life as well as for broadening the College community as a whole," said Ann Marie Barry, Oakton's director of Student Life.
Barry, a resident of Glenview, also was named Advisor of the Year at the Student Leadership Banquet. She serves as the advisor for Phi Theta Kappa. The Advisor of the Year, voted on by Oakton's student club members, is awarded annually to a College club mentor for providing outstanding service.
"My job is incredibly rewarding because I do have the opportunity to work with amazing students," said Barry. "And, because students choose the Advisor of the Year, receiving this award was a true honor."
Take Advantage of Golden Opportunities in the Health Care Field at Oakton
Opportunities in the health care field are sizzling! Learn how to join an exciting profession by attending a free information session at Oakton Community College's Des Plaines campus, 1600 East Golf Road.
Find out more about medical laboratory technology on Wednesday, May 7, at 7 p.m., in Room 1550. Medical laboratory technicians perform test procedures, collect blood samples, prepare solutions, and maintain quality control procedures. These health professionals work in hospitals, physicians' offices, private labs, and in industrial and commercial sales, marketing, and insurance positions. According to the U.S. Department of Labor, careers for medical laboratory technicians are expected to grow by more than 10 percent by 2020.
Discover the world of phlebotomy on Wednesday, May 7, at 7 p.m., in Room 1550. A phlebotomy technician obtains blood samples for laboratory testing and may also be responsible for working in situations that require the collection of urine specimens and throat cultures. Procedures must be performed to insure specimen integrity while causing minimal trauma to the patient.
Faculty will available to discuss course requirements and industry trends at the sessions.
Enroll quickly as seating is limited! To reserve a spot, visit www.oakton.edu/healthcareers or call 847.635.1700.
Spring Musical Celebration Continues at Oakton
Make note that there's still time to enjoy performances of the Noteworthy Festival and usher in spring with a range of musical performances at Oakton's Footlik Theater, 1600 East Golf Road. Concerts showcase the College's talented student performers and outstanding music faculty.
Remaining shows include:
Vocal Recital
Wednesday, May 7, 8 p.m., $3general admission
Voice students directed by Eileen Berman, a professionally performing member of Oakton's music faculty, display their talent for bright notes and dazzling tunes. Don't miss Oakton's only recital that features Broadway and classical favorites!
Choral Recital
Thursday, May 8, 8 p.m., $3 general admission
Eileen Berman returns for a second night of vocal virtuosity with the crowd-favorite Oakton Choir. Classical choral pieces and modern songs combine to create an enjoyable evening of song and voice.
Jazz Invasion
Friday, May 9, 8 p.m., $5 general admission, $3 students and seniors
This fitting finale of the Noteworthy Festival delights crowds with its jazz classics and big band hits by Oakton's Jazz Ensemble, the College's original musical group led by Robert Evans. What a way to welcome spring!
Prior to Jazz Invasion, join Evans for a free pre-concert discussion on featured pieces. Get the inside scoop starting at 7:30 p.m., at Oakton's Performing Arts Center lobby.
For tickets, call the Oakton Box Office at 847.635.1900.
Tribute to Founder of the Plucked Chicken Press Opens at Oakton
The Koehnline Museum of Art, 1600 East Golf Road Des Plaines, pays homage to a beloved local area painter, printer, and poet with the opening of Tribute to Will Petersen and the Plucked Chicken Press on Thursday, May 8.
In 1978, Petersen founded the Plucked Chicken Press, once the Chicago area's leading lithographer. Petersen's reputation as a master printer attracted many of the city's prominent artists, and Plucked Chicken thrived until his death in 1994. Now, two decades after Petersen's passing, the Museum acknowledges his legacy with a new portfolio of prints produced by his friends and colleagues, and a selection of lithographs from the Koenhline's collection.
The Koehnline Museum of Art is open 10 a.m. – 6 p.m., Monday through Friday, and 11 a.m. – 4 p.m., Saturday. Please note: May 30 – June 19, the Museum will be operating under its summer hours, Monday – Thursday, 10 a.m. – 7 p.m.
For more information, call 847.635.2633, or visit www.oakton.edu/museum.
Jews and Muslims: Haunted by Pasts Real and Imagined
Modern media often depicts the Arab-Israel conflict as a competition between Zionism and Palestinian nationalist groups. This seemingly intractable conflict is actually rooted in a much longer history. Learn more about this legacy at a free lecture on Thursday, May 15, at 11 a.m., at the College's Skokie campus, 7701 North Lincoln Avenue (Room P103).
Presented by Jacob Lassner, Ph.D., Philip M. and Ethel Klutznick professor emeritus of Jewish civilization at Northwestern University, "Jews and Muslims: Haunted by Pasts Real and Imagined" focuses on how Jews and Arabs both use stories of distant pasts to create their identities and shape their politics. The lecture also details the ways in which history is absorbed, internalized, and then processed among these two distinctive groups.
One of the country's foremost Middle Eastern scholars, Lassner is the former director of Jewish Studies at Northwestern University and received his doctoral degree at Yale University. In 2013, Lassner received the prestigious Franz Rosenthal Prize for a lifetime of distinguished contributions to Islamic Studies. The author and/or co-author of 11 books, he was a member of Princeton's Institute of Advanced Study, and a fellow at Jerusalem's Hebrew Union College Biblical and Archeological School; the Rockefeller Institute in Italy, the Harvard Centers of Jewish and Middle East Studies, and the Oxford Center for Hebrew and Jewish Studies.
This lecture is sponsored by Jewish Studies at Oakton and the Office of Access, Equity, and Diversity with a generous grant from Oakton's Educational Foundation.
For more information, contact jewishstudies@oakton.edu.
Sell Your "Gently Used" Treasures at Oakton's Community Garage Sale
Support Oakton's Habitat for Humanity Club by selling your "gently used" treasures at the Community Garage Sale, Saturday May 17, from 9 a.m. – 3 p.m., at the south parking lot of the College's Skokie campus, 7701 North Lincoln Avenue. The sale will take place rain or shine.
Interested in participating? Here's what you need to know – for $40 you can get a 21x21 foot space and table at the sale. Deadline is Wednesday, May 14. Pay in person or by mail through the Office of Student Life, Room A160, Skokie (Monday – Thursday 9 a.m. – 6 p.m.; Friday 9 a.m. – 1 p.m.). E-mail habitat@oakton.edu for a mail-in registration form.
You can also make a difference by stopping by on sale day and finding great bargains for a good cause!
"Many homeowners in the area own condominiums and townhouses and it's difficult for them to have a garage sale," said Marvin Bornschlegl, advisor to the College's Habitat chapter. "The elderly members of the community might find the event beneficial as there will be others around to help them out. Some might consider splitting a spot with a neighbor, friend, or family member. Also, this is a great opportunity for anyone to reduce the items that they have placed in storage and will probably no longer use. Re-selling items is great for the environment."
For more information, call 847.635.1845.
Still Time to Register for Cool Summer Classes at Oakton
There's still time to register for cool summer classes at Oakton Community College. Eight-week classes begin Monday, June 9, and seven-week classes start Monday, June 16.
Summer interim classes are from one to six weeks in length; most are offered between the end of spring semester and the beginning of summer session.
Class listings may be found at www.oakton.edu or in the Summer 2014 Credit and Noncredit Class Schedule, available at the campuses in Des Plaines (1600 East Golf Road) and Skokie (7701 North Lincoln Avenue).
Register at either campus in person Monday through Thursday, 8:30 a.m. – 7 p.m.; Friday, 8:30 a.m. – 5 p.m.; and Saturday, 9 a.m. – 12 p.m. Students with a current application on file may register online at my.oakton.edu.
For more information about classes, contact Advising Services at 847.635.1741 in Des Plaines, or 847.635.1400 in Skokie.