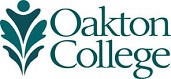 News from Oakton May 13, 2014

Oakton Celebrates 43rd Annual Commencement on May 20
More than 1,000 eligible students have petitioned to receive degrees and certificates from Oakton Community College – and hundreds them will don caps and gowns to cross the stage, receive their diplomas, and celebrate at the College's 43rd Annual Commencement on Tuesday, May 20.
Oakton alumna Kristina Alcozer Garcia, M.A., coordinator of student leadership at Northeastern Illinois University, will give the commencement address. Garcia, a Morton Grove resident, received her associate's degree at Oakton in 2009, earned a bachelor of arts degree in English from NIU, and recently completed her master of education degree at Loyola University in Chicago, where she will soon serve as coordinator for off-campus programs. Her research interests include leadership development, first-generation students, and women's development. Garcia leads workshops and presents on a wide variety of topics including Communication Lessons Learned from Star Wars; Social vs. Antisocial: Debunking Introversion and Extroversion Myths; and Your Words Have Power: Inclusive Language on Your Campus. While at Oakton, she was editor-in-chief of the student newspaper and a member of Phi Theta Kappa.
Joining Garcia at the podium will be Student Government Association Past President Edet Nsemo of Chicago who will give a farewell address. Nsemo stepped down from active duty in the Marines two years ago and enrolled at the College on the G.I. Bill. After serving in Afghanistan and Okinawa, he was awarded the Purple Heart Medal, Navy Achievement Medal of Valor, and President's Unit Citation for Joint Service Achievement Medal. Nsemo also served on the staff of the assistant commander of the Marines in the Pentagon. At Oakton, Nsemo, who still serves in the Marine Reserves, helped to establish both the Veteran's Club and Oakton Leadership Network, which fosters cooperation among student club leaders. He also completed an internship with the Evanston District Office of U.S. Congresswoman Jan Schakowsky and plans on pursuing a bachelor's degree in political science.
The College will confer its Distinguished Alumnus Award on Timothy J. Panfil, a resident of Des Plaines who earned associate's degrees in pre-engineering and electronics and computer technology in 1988 and 1989 respectively. A graduate of Maine East High School, Panfil completed a bachelor of science degree in marketing at the University of Illinois, followed by a master of business administration degree from the Keller Graduate School of Management in 1997. Currently director of enrollment management at Elmhurst College's School for Professional Studies, he joined Oakton's new Alumni Council and recently initiated the School for Professional Studies/Oakton Community College Alumni Award at Elmhurst College, offered to an outstanding adult learner who graduates from Oakton and transfers into an accelerated degree completion program at Elmhurst.
Oakton Closed for Memorial Day
Oakton's campuses in Des Plaines (1600 East Golf Road) and Skokie (7701 North Lincoln Avenue) will be closed on Monday, May 26, for Memorial Day.
The College will reopen on Tuesday, May 27.
Investigate Oakton from Every Angle
If you're investigating colleges, check out Oakton from every angle during a campus visit on Wednesday, May 28, at 6 p.m., at the College's Des Plaines campus (Room 1550).
Sponsored by the Office of Student Recruitment and Outreach, the visit will feature information about admission, career and transfer programs, financial aid, student services, and extracurricular activities. Oakton faculty, administrators, staff, and students will be available to answer questions.
Oakton offers associate's degrees and certificate programs for students planning to move on to four-year colleges or universities, as well as those preparing for employment in a variety of careers. Accredited by The Higher Learning Commission of the North Central Association of Colleges and Schools, the College is recognized by the Illinois Community College Board and is a member of the American Association of Community Colleges.
To reserve your seat, call 847.635.1835 or visit www.oakton.edu/visit.