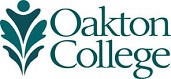 News from Oakton May 20, 2014
Oakton Duo Wins First-Place Honors at Skyway STEM Competition
Two Oakton Community College students received first-place medals in the biology category at the Illinois Skyway Collegiate Conference's annual STEM (science, technology, engineering, and mathematics) Poster Competition hosted by Morton College in Cicero on April 25.
Ammar Elmajdoub of Des Plaines, and Julia Prieto of Niles were recognized for their work, "The Alleopathic Effects of the Shrub Rhamnus Cathartica," which beat out 12 other entries from area colleges. Their study focused on the invasiveness of buckthorn. Elmajdoub and Prieto discovered that extracts made from buckthorn berries inhibit the growth of tomato seeds.
The competition is a way to promote interest in STEM disciplines among the eight Skyway Conference members, which also include Elgin Community College, College of Lake County, McHenry County College, Moraine Valley Community College, Morton College, Prairie State College, and Waubonsee Community College. Students from the Skyway Conference colleges were required to submit a two-page presentation and create a poster related to their topic. A panel of experts from Argonne National Laboratory in Darien critiqued the entries. Categories also included chemistry, engineering/technology, and physics/mathematics/earth sciences and computer science.
"Studying invasive species is important because it shows how they can wreak drastic havoc on our ecosystem," said Prieto, who plans on majoring in environmental sciences at the University of Wisconsin-Madison this fall.
Added Elmajdoub, who will pursue his civil engineering degree at the University of Illinois at Chicago in 2015, "We spent countless hours in the lab and outside collecting buckthorn samples and the judges asked us some tough questions. All our hard work was worth it in the end, and it was nice to be recognized for our efforts."
Gary Mines, professor of chemistry; Paul Gulezian, assistant professor of biology; and Chad Landrie, associate professor of chemistry, served as advisors for Oakton's winning project.
Oakton Showcases Health Care Careers at Free Information Sessions
Opportunities in health care careers are growing rapidly! Don't miss your chance to join an exciting profession by attending free information sessions at Oakton Community College's Des Plaines campus, 1600 East Golf Road.
Take a closer look at health information technology on Wednesday, June 4, at 6 p.m., in Room 1560. Health information technologists manage patient information for hospitals and other health care facilities and practitioners. Career opportunities for health information technicians are promising as the Bureau of Labor Statistics reports that the number of positions in this area is expected to grow by more than 27 percent through 2014. In Illinois, HIT is among the 50 fastest-growing occupations.
Discover the growing field of radiologic technology, which involves producing images of the human body for use in diagnosing medical conditions, on Monday, June 9, at 5 p.m., in Room 2145. The College partners with the St. Francis School of Radiography in Evanston to offer a two-year degree in radiologic technology. The Occupational Outlook Handbook reports that employment in this area is expected to grow by more than 22 percent by 2020. Qualified radiologic technologists are needed in hospitals, clinics, physicians' offices, industry, and public health.
Enroll quickly as seating is limited! Faculty will be on hand to discuss course requirements and industry trends.
Reserve your spot by visiting www.oakton.edu/healthcareers or calling 847.635.1700.