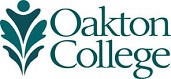 Oakton Owls men's basketball team looking to soar to new heights
(Oct. 28, 2016) The 2016-17 edition of the Oakton Community College men's basketball team has something that is unteachable – height. Nine of the players on Owls' current roster are over six feet tall.
"Our strength is going to be our size this year," said Mick Reuter, who is entering his eighth year as head coach. "Not only do we have talent, but we also have strength and size across the board. We'll be bigger than most colleges, and opponents will have a hard time defending us."
The Owls' most overwhelming presence on the court will be 6-9, 220-pound sophomore center Chris House. A Prospect High School product, House recently transfered to Oakton from Clinton Community College.
"It feels great to be back," he said while shooting jumpers at a recent practice. "My height is an advantage for the team, as it allows me to play different styles. To win at this level, you need height and big bodies. You don't often see too many players like me on the court."
Sophomore point guard and captain Ryan Matthews (Park Ridge, Maine South High School) will complement House, ready to improve on his average of 11.4 points, 4.5 assists and 5.8 rebounds last season.
"I take my job as captain seriously," Matthews said. "Being named captain for this season means a great deal to me, and I'm up to the challenge. For the most part, I lead by example and let my playing do most of the talking."
Newcomer Marion Johnson, a 6-3 forward from Des Plaines (Maine West High School) is expected to make immediate contributions.
"Marion is one of our most flexible defenders," Reuter said. "He can defend all positions on the floor, which is extremely rare. He only wants to improve his skills and will do whatever is needed for our team to be successful."
Reuter is confident that with his nucleus of players, the Owls can win a lot of games this season.
"We definitely have the talent and character to be contenders in the region and in the Illinois Skyway Collegiate Conference," he said. "The team is coming together as a group, and the players are accountable for themselves and want to be successful."
The Owls tip off the season on Tuesday, Nov. 1 in a home contest against Truman College starting at 7 p.m.