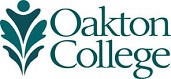 Oakton golfers qualify for national championship
(Oct. 18, 2016) Oakton Community College freshmen golfers Stephen Bukielski (Schaumburg High School) and Chris Blaha (Conant High School) will be doing more than working on their tans when they head to Mesa, Arizona, to compete in the 2017 National Junior College Athletic Association (NJCAA) Division II Men's Golf Championship at the Longbow Golf Course May 23-26.
The Owls golfers qualified for nationals with their performances at the NJCAA Region IV Regional Tournament at Deer Park Country Club in Oglesby Oct. 6-8. Bukielski and Blaha competed against 50 other golfers from 11 area colleges in the 54-hole competition. Bukielski placed third overall, shooting 225, and Blaha finished eighth with his score of 231. Both Owls golfers were named to the NJCAA Region IV All-Region First Team. The top 15 golfers qualified for the national championship.
"I'm on cloud nine for both Steve and Chris," said Louis Walker, Oakton men's golf coach. "They definitely earned it, as they played well all season for us. Having two representatives compete in the national tournament is great for our golf program as well as Oakton. I anticipate they'll do well because they are outstanding golfers. It's hard to believe they're only freshmen."
Earlier this season, the Illinois Skyway Collegiate Conference named Bukielski and Blaha to its All-Conference First Team.