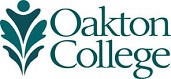 Oakton's Brooks named 'Outstanding Community College Professional'
(Nov. 23, 2016) Oakton Community College Vice President for Student Affairs Karl Brooks, Ed.D., says, "Being at Oakton and serving the personal development and the educational aspirations of our students is my passion."
Last week Brooks was selected Region IV-East Outstanding Community College Professional by NASPA Student Affairs Administrators in Higher Education.
The award is presented to an individual at a community college within the region who has demonstrated leadership and commitment to student affairs and NASPA based on the following criteria:
A minimum of five years' experience in student affairs;
Contributed to creating a campus environment that promotes student learning and personal development;
Current NASPA member within Region IV-East or have retired from the region;
Demonstrated active involvement with the profession, NASPA and community college research, policies or practice at the regional level; and
Outstanding individual contribution in innovative and responsive services and programs that address the varied and emerging needs of students at the community college.
In addition to the regional recognition that accompanies this award, Brooks will also be considered for the national NASPA Community College Professional Award at the NASPA Annual Conference, March 11-15, 2017, in San Antonio.
Brooks came to Oakton in August, 2015, following service at Joliet Junior College as dean of student success, where he lead and supervised the Student Success Team, which oversaw critical departments and programs that support the effective engagement, persistence and success of students.
"The work that Dr. Brooks oversees for the college is critical to Oakton's student success, persistence and completion goals," says Oakton President Joianne L. Smith, who is leading the college's aggressive push to increase persistence by nine percent. "Building a culture where students are not only held to high expectations but supported in their journey is among the most important things we do at the college, and Karl's leadership is already pushing us forward."
Prior to his employment at Joliet, Brooks served DePaul University and North Central College in various student affairs leadership capacities. He earned his bachelor's degree from North Central College, Master of Science in Education degree from Drake University and his Doctorate in Education from DePaul University.
"I am simply humbled by the recognition received from NASPA, a national voice for professionals working in higher education. There are so many great leaders, mentors and colleagues that have nurtured my development in the profession of student affairs. I sincerely see this award as recognition of their outstanding collaboration and support over the course of my career," Brooks says.