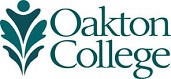 Top 10 of 2016: Robotics takes second place at NASA (1)
Oakton Community College finished second overall in the National Aeronautics and Space Administration (NASA) Robotic Mining Competition at the Kennedy Space Center Visitor Complex in May. The 13-member team was one of just two community colleges participating in the competition against 43 other four-year colleges and universities across the country.
Oakton Robotics placed among the top three in four different categories, earning second place recognition for social media and engagement in addition to its systems engineering paper. The team finished third in the on-site mining competition and took third place for its outreach project.
The robotics team was featured on WCIU's You & Me in the Morning in November as it prepares for the 2017 competition with a new robot.