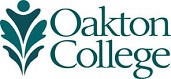 Top 10 of 2016: Student Success (4)
Over the course of the last 12 months, Oakton Community College students boasted numerous successes in academics, co-curricular events and athletics.
Academically, students displayed their brain power in various ways. Simone Montgomery and Roxanna Berinde were selected as 2016 Coca-Cola Community College Academic Team Scholars. Berinde also earned the prestigious Jack Kent Cooke Foundation Undergraduate Transfer Scholarship, worth up to $40,000 a year to complete a bachelor's degree, while Montgomery won the Wentcher Transfer Scholarship, valued at $10,000 per year.
Angelica Trygar and Lucas Keil also demonstrated that Oakton is a place where students can "start here and go anywhere" by transferring to four-year colleges to continue their music education after earning competitive music talent scholarships.
Oakton students also had exceptional showings in Illinois Skyway Collegiate Conference (ISCC) events.
Art student Vijay Paniker was named "Best of Show" in the conference's annual juried art competition. Carol Goodman and Sophie Chang received "Awards of Excellence" for their respective ceramics and photography submissions, entitled "Conquistador" and "Circle of Green." Mack McKernan earned an "Award of Merit" for her ceramic work, "Buddies."
Showing that the pen is mightier than the sword, Cheikhna Cissokho captured first place in the poetry category at the ISCC Writers' Festival for his poem, "Brush off the Dust." Two Oakton students placed in the top-three of the nonfiction category: Max Wacker took second for "Lessons in Attendance" and Jillian Sliwa garnered third for "The Dress."
Four members of the Oakton Jazz Band were recognized for their performances at the ISCC Jazz Festival. Preetham Marati on alto saxophone, Jim Postillion on baritone saxophone, Brad Kolar on trumpet and Tom Bartlett on trombone each earned outstanding soloist honors.
Oakton's Six Piano Ensemble, conducted by Glenna Sprague, were invited to entertain music lovers at the Royal Conservatoire of Scotland while performing at the 32nd World Conference of the International Society for Music Education (ISME) in Glasgow, Scotland.
Highlighting athletic feats, freshmen golfers Stephen Bukielski and Chris Blaha will represent Oakton at the 2017 National Junior College Athletic Association (NJCAA) Division II Men's Golf Championship at the Longbow Golf Course in Arizona next spring after finishing in the top 15 at the NJCAA Region IV Regional Tournament against 50 other golfers from 11 area colleges in the 54-hole competition. Bukielski placed third overall, shooting 225, and Blaha finished eighth with his score of 231.
Southpaw pitcher Brandon Nowak, signed a letter of intent to play for the University of Miami Hurricanes, one of the top National Collegiate Athletic Association Division I baseball programs in the country. Nowak helped guide the Owls to a 12-2 conference record and a second straight league title. He was named ISCC Pitcher of the Year.