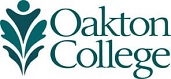 Oakton to host free college fair Feb. 8
(Jan. 24, 2017) Current and prospective college students are invited to meet with representatives from colleges and universities from Illinois and across the country at Oakton's annual college fair on Wednesday, Feb. 8. The free event is open to the public and will run from 10:30 a.m. – 1:30 p.m. in Room 1604, 1600 E. Golf Road, Des Plaines.
"Whether a current Oakton student or a prospective college student, it's never too early to start researching your college or university options," said Brian Bacon, academic advisor. "Building a relationship with your college or colleges of interest is crucial to your academic success at both Oakton and your four-year institution."
More than 70 colleges and universities have committed to participating in the college fair.
In addition to the fair, Oakton representatives will conduct the following free workshops:
10:30 a.m.
TRIO & Financing Your Education
11:30 a.m.
Using Transferology
Noon
TRIO & Financing Your Education
1:30 p.m.
Using Transferology
The event will also include drawings for a chance to win a $25 Amazon gift card and Kindle Fire.
For more information, contact Brian Bacon at 847.635.1400 or email bbacon@oakton.edu.