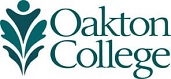 Local artist brings 'Environmental Graphiti' to Oakton Jan. 25 – Feb. 25
(Jan. 13, 2017) Northbrook artist Alisa Singer's art of climate change will be on display at Oakton Community College in the first floor lobby of the Margaret Burke Lee Science and Health Education Center (Lee Center) Jan. 25 – Feb. 25.
Sponsored by the Koehline Museum of Art, Oakton Educational Foundation and the Division of Science and Health Careers, 'Environmental Graphiti: The Art of Climate Change' is a 16-piece display that uses contemporary art as a vehicle to encourage widespread understanding of the compelling science of climate change.
"When I first started to wonder why more people weren't paying attention to the specific facts about climate change, I realized that some might be put off, confused, or intimidated by graphic depictions of data and statistics," says Singer. "Our experience with 'Environmental Graphiti' so far has proven the synergies derived from combining art and science can be impactful. Art can serve as an inviting point of entry to make scientific information more accessible and comprehensible. And art combined with science can serve as a powerful tool to tell the story about climate change – a story that needs to be told by as many people, in as many ways, as possible."
Singer created 'Environmental Graphiti' in 2014. The self-taught artist has, since her retirement from the practice of corporate law, devoted herself to creating art that challenges and expands the way people think about climate change. 'The Art of Climate Change' series consists of more than 45 digital paintings that are printed on large metal sheets, each derived from a different fact about climate science. The glossy and colorful paintings grab the viewer's attention and are displayed with a plaque depicting the underlying climate data source and an explanation of its significance.
An opening reception will take place in the Lee Center Lobby from 11 a.m. – 1 p.m. on Wednesday, Jan. 25, and guests will have the opportunity to speak with the artist. Artwork and merchandise will be available for purchase to benefit the Educational Foundation.
Additionally, a discussion and analysis of the climate change depicted in the artwork will take place at 11 a.m. Wednesday, Feb. 1, in the college's TenHoeve Center, Room 1610, 1600 E. Golf Road, Des Plaines. The panel will include Associate Professor of English Marian Staats, Professor of Philosophy Thomas Bowen and Assistant Professor of Biology Paul Gulezian.
All exhibits and events are free and open to the public. For more information, contact the Oakton Educational Foundation at 847-635-1893.