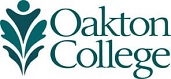 Oakton Owls men's basketball guard earns player of the week honors
(Jan. 10, 2017) Oakton Community College freshman guard Tafari Beckford (Skokie, Niles North High School) was selected men's basketball District 4 player of the week according to the latest Region IV National Junior College Athletic Association report.
Oakton, which competes in Division II, went 1-0 last week with an 82-61 road victory over Truman College on Thursday, Jan. 5. In the victory, Beckford tallied 19 points, 10 rebounds, 5 assists and 3 steals.
Beckford leads the Owls averaging 18.0 points, 9.7 rebounds and 4.0 assists per game.
"Tafari continued his stellar play last week despite a sprained ankle he suffered midway through the first half against Truman College," said Mick Reuter, head basketball coach of the Owls. "He is a tough and unselfish player with impressive basketball skills."