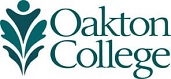 Mount Prospect resident and recent Oakton graduate passionate about giving back
(May 17, 2017) Dina Margetis (Prospect High School) was one of 12 Mount Prospect residents to graduate at Oakton Community College's 46th annual commencement on Tuesday, May 16. Margetis, who received an associate degree in human services, will leave behind a legacy for future students – information about volunteering or making use of what local food pantries offer.
"Dina's brochure is her gift to the college," says Sandra Janowski, Oakton human services lecturer, of a brochure Margetis designed and distributed as part of a service learning activity. "Dina wanted to make sure students were aware of the available options if they needed help or wanted to assist others."
Margetis spent more than 10 hours creating the brochure, and dozens were distributed this past semester. She presented her work as part of a recent service learning fair at the college. Janowski says the information contained within pamphlet will continue to be available to all Oakton students.
Margetis spent more than 200 hours as part of an internship at the Niles Township Food Pantry in spring 2017 to fulfill requirements to earn her degree. During her time at the pantry, she made a difference by helping to reorganize food items, designing a garden at the site for fresh produce and keeping inventory.
"I love helping others," she says. "Interning at the food pantry was not only very fulfilling, it left a mark on me forever. My experience has inspired me to reach out to the less fortunate. We're all meant to take care of each other."
The 26-year-old Margetis, who has been taking classes at Oakton since 2008, was born with the rare birth defect schizencephaly, which is characterized by abnormal slits or clefts in the cerebral areas of the brain.
"At the end of the day we're all human," Margetis explains. "There's no reason why anyone should be ashamed or stigmatized if they are going through a rough time."
During her time at Oakton, Margetis participated in numerous extracurricular activities, including choir and writing for the college newspaper, the OCCurrence.
"Oakton will always be my home and a place where I discovered my passion for helping others," she says. "My experience at the college was extremely positive and opened so many doors for me."
Now, as an Oakton alumna, Margetis plans to continue volunteering for notable local organizations such as PADS, WINGS and Pathways Center for Children. However, her passion is working to create an online resource for people who need assistance for clothing, food, shelter and medical needs.
"I've been gathering information on all these topics since high school," Margetis says. "I'm hoping to have the website up and running sometime in 2018."
"She has a kindness about her that opens people's hearts," Janowski adds. "Dina's determined to be an advocate for the basic needs of people. She wants to make a difference in the world, and she's already been doing that."