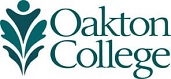 Persistence pays off for Niles resident and recent Oakton graduate
(May 30, 2017) Beatriz Sparks was one of 81 Niles residents to graduate at Oakton Community College's 46th annual commencement on Tuesday, May 16. Like many Oakton students, Sparks completed her education while working full time. Now, her three-year quest to earn her human resource specialist certificate is complete.
"My personal experience to getting my certificate was a celebration of persistence," says the 42-year-old Sparks, who currently serves as the executive assistant to the vice president for Student Affairs at Oakton. "Sometimes it took a lot of juggling because I would finish a workday and then have to go to class or prepare for exams when I just wanted to relax."
"Beatriz is indicative of many of our students who persevere through countless endeavors such as working full time and managing many adult responsibilities while taking classes," Vice President for Student Affairs Karl Brooks, Ed.D., explains. "Whether it takes a few months or years, we take joy in celebrating the success of all our students who achieve their educational goals at the college."
A native of Colombia, Sparks earned a degree in biology in her home country before moving to the United States. She eventually started her Oakton career in 2010, when she was hired as a part-time assistant to the chair of medical laboratory technology. Three years later, she transitioned into a full-time position at the college's Office of Career Services, where the seed was planted to further her education.
"I really became interested in human resources as a discipline, and that personal interest sparked me to want to learn more about the field," Sparks says. "That led me to take my first HR class at Oakton in 2014. Originally, I was going to just take one HR class. However, when I learned the college offered a certificate program, I was inspired to take more classes and figured I might as well go for it all."
After taking courses on-and-off for several years, Sparks took HR Management Law—the last piece in the puzzle to successfully complete the 18-hour certificate program—in the spring.
"I really enjoy the sense of accomplishing something, no matter how big or small," Sparks says. "Everything I learned helps me in my current position each day. Whether it's understanding an organizational structure like Oakton's or crafting a well-written and professional email, my goal has always been helping students to succeed academically, and this experience only strengthens my ability to do that."