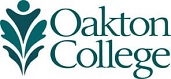 Oakton extends Enrollment Center hours for start of fall classes
(Aug. 7, 2017) Oakton Community College has made it more convenient to register for fall classes, which begin Monday, Aug. 21, at easily-accessible campuses in Des Plaines and Skokie in addition to online.
The Enrollment Center, located at 1800 E. Golf Road in Des Plaines, and 7701 N. Lincoln Ave. in Skokie is open extended hours from Monday, Aug. 7, through Saturday, Aug. 26, to better serve students during the registration process. Hours are as follows:
Monday – Thursday, 8:30 a.m. – 7 p.m.
Friday, 8:30 a.m. – 5 p.m.
Saturday, Aug. 19 and Aug. 26, 9 a.m. – noon
Students can register for courses up until the start of the class. Registration information is available at www.oakton.edu/admission/register. Students who have not previously enrolled in courses at Oakton can apply for admission at www.oakton.edu/apply.