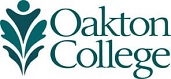 Oakton men's golf returns top-caliber talent for 2017
(Aug. 23, 2017) Seasoned Oakton Community College's golfers Stephen Bukielski (Niles, Schaumburg High School) and Chris Blaha (Hoffman Estates, Conant High School) will be leading the way for the Owls this season, according to Louis Walker, Oakton men's golf coach.
Both Bukielski and Blaha competed in the National Junior College Athletic Association (NJCAA) Division II Men's Golf Championship in Mesa, Arizona, as freshmen last season. That experience is invaluable and will rub off on the rest of the team, says Walker, who is entering his 10th season with the Owls.
"It's a huge advantage for us having two national qualifiers returning," Walker says. "They've already been through a collegiate golf season and will bring poise and skill to the course for us during every match."
"Playing in nationals helped to get a lot of the jitters out of the way and gives me a lot of confidence heading into this season," says Bukielski, who also was an all-conference player in high school. "Doing so well last year gives me a lot of confidence heading into this season. This year, we're looking to have another good season and have our whole team qualify for nationals."
The Owls also add two golfers from Northbrook's Glenbrook North High School, Patrick Scanlon and Clayton Fisher.
"Both Chris and I have been working with the new golfers," Bukielski explains. "However, the thing about golf is that you can only control and worry about how you play. We want everyone on our team to do well, so we'll be cheering for ourselves as well our teammates."
"We have a good group of four close players," says Walker. "What also will help us is that Chris can constantly hit the ball over 300 yards off the tee."
Walker says while he wants his golfers to qualify for nationals again, he is eyeing the top spot in the Illinois Skyway Collegiate Conference (ISCC).
"The last time Oakton was the champion of the ISCC was 1993," Walker says. "That's a long time ago. Since I've been coach, every team but the Owls has won the conference. I'm looking for that to change this year."
The Owls start the season Friday, Aug. 25, at the Highland 36 Golf Tournament at the Parks Hill Golf Course in Freeport, sponsored by Highland Community College.
"We have a lot of momentum going into the season, and the first match will set the tone for us to see how good we can be," Walker says.