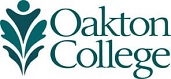 Oakton Branding
Finish here.
You can finish your journey at Oakton and get a great education at a price you can afford. Choose from more than 80 degree and certificate programs and transfer to more than 650 four-year colleges and universities throughout Illinois – and beyond.
Follow these steps to attend Oakton
Contact Us
Oakton specialists are happy to assist students through the enrollment process. Many late-start classes are still available for fall. Call Rebel Campbell-Barber at 847.635.1703.
Submit Transcripts
Send official high school or GED transcript, as well as official transcripts from all colleges previously attended.
Oakton Branding
In today's high-pressure world, you need an education that prepares you to face the future with both skills and practical know-how. That's why Oakton's 80 areas of study teach not only theories, but also how to apply them. Whatever your focus, an Oakton education will prepare you for a relevant—and successful—future.
Start meeting people.
Take a quick look at what our students are up to and how our alumni are succeeding. Or get to know our faculty and staff.