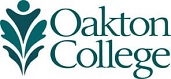 Equipment and Materials
Media Services provides equipment, educational media, and assistance for classes and special events. Equipment available at both campuses includes:
Video projectors
Video monitor carts & DVD decks
Video cameras, tripods, and visual presenters
Video Conferencing & Webinar connections
Webcams
Apple Ipads
BluRay Players
CD players and audio recorders
Flip charts and easels
Variety of microphones, speakers, and sound systems
Laptop computers
Classrooms and teaching spaces at both campuses are permanently equipped with video projectors, computers with DVD playback capability, and screens. Additional equipment can be delivered to classrooms.
Equipment can be reserved online through myOakton or by calling or stopping in at the Media Services offices on each campus. We recommend to reserve equipment with at least two business days before the requested date.
The bulk of the college's media collection is housed at the Des Plaines campus. Please go to myOakton and find it by selecting My Courses tab and scrolling down to the Media Services section for students. Also, note that all equipment and materials may only be used for Oakton-related purposes.