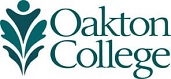 Class Schedules
Credit Fall 2020*

The College is adjusting for fall due to the COVID-19 pandemic. Oakton plans to shift many fall classes to an online format, and to hold lab-based components of classes on campus, practicing social distancing and limiting the number of people in classrooms and or labs. More information will be shared as it becomes available.
Credit Summer 2020**
**Summer classes will be delivered in an online format only. The College is assessing options for remotely delivering lab-based courses and other courses that typically require face-to-face instruction.
---
Noncredit Spring 2020
Noncredit Late Spring 2020