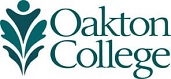 Oakton Celebrates 50 Years (1969-2019)
Did you know that Oakton started in a factory building in Morton Grove? Were you aware that a farm with an irrigation system was located at the Des Plaines campus near the soccer field? Or did you ever imagine that the base to the huge flagpole on the Skokie campus is a relic from the Chicago's Century of Progress Exposition (1933-4)? These facts and many more are part of a special exhibition celebrating Oakton's 50-year anniversary. The exhibition presents the history of the college in documents, photos, and videos and also the history of the Koehnline Museum of Art through its exhibitions and collections.
Exhibit runs through September 19, 2019.
Museum hours* are 10 a.m. – 6 p.m., Monday through Friday, and 11 a.m. – 4 p.m., Saturday.
For more information, call 847.635.2633, or visit www.oakton.edu/museum.
Event Details
Free
Koehnline Museum, Des Plaines