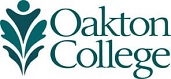 Earn a College Credential and Get Your GED
With the Evanston Public Library and Oakton Community College Free Six-Month Training Program
Don't yet have your GED? No problem! Participate in this six-month program and work toward earning your GED while training for an in-demand credential.
Program highlights:
Receive a $300 stipend while enrolled (eligibility required)
Experienced instructors and support personnel to best ensure your success
Wifi hotspots and laptops to utilize while in the program
Complete in as little as six months
Career exploration and job search support at the completion of the program
Free of charge, this equity-based initiative is sponsored by Oakton Community College and the Evanston Public Library. Enrollment is limited.
Contact Transitions Coordinator Stacy Lomax at slomax@oakton.edu or 847.376.7758 to get started.