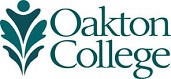 OMG Improv and Speech and Debate Readings
Oakton's student improvisation group takes the stage with their wit and creativity to pull humor out of the most ridiculous and unexpected places. Frequent performers at some of Chicago's popular comedy venues, OMG invites you, the audience, to join the fun by suggesting the improv starters. This is a joint fund-raising performance, featuring award-winning members of the competitive speech and debate society performing humorous persuasion, prose, poetry, and more!
For more information, call 847.635.1900.
Event Details
Saturday, April 21, 8 p.m.
Studio One, Des Plaines