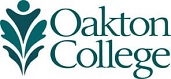 22nd Annual Infant Toddler Conference
The Lasting Impact of Early Connections: Recognizing the Value of your Work with Children, Families, and the Profession

Conference Schedule
7:30 - 8:15 a.m.
Coffee and Registration (Main Lobby)
8 a.m. - 2 p.m.
Professional Exhibits
8:30 - 9:45 a.m.
Keynote Address with Dr. Dipesh Navsaria, MPH, MSLIS, MD
Early Experiences Elevate Everything: Early Brain and Child Development and the Future of Society

See all workshops.
10 - 11:30 a.m.
Morning Workshops
11:30 a.m. - 12:30 p.m.
Boxed Lunch and Marketplace of Information
12:30 - 2 p. m.
Afternoon Workshops
Registration
Register early. Space is limited.
$45 in advance; $65 at the door
Fee includes continental breakfast, boxed lunch, and admission to all sessions.
Registration Deadline: Monday, February 11, 2019
Register online or mail form on conference brochure.
Please bring your registry number.


For more information, contact Rosann Scalise at 847.635.1910.


Presented by Oakton Community College in collaboration with The Ounce of Prevention Fund, Children's Home + Aid, and Gateways to Opportunity.
This is a Gateways to Opportunity registry-verified conference.
Event Details
Saturday, March 2, 2019
7:30 a.m. - 2 p.m.
TenHoeve Center, Des Plaines