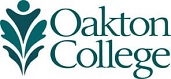 Women in Leadership: Telling Herstory!
This one-day symposium will allow students and new and seasoned professionals the opportunity to gain professional leadership development to assist in efforts to close the wage gap between men and women.
For details visit the Conference website.
Event Details
Wednesday, Oct. 21, 9 a.m.
Remote, Off Campus

Do you have a question about
Oakton Community College?
Alumni Profile
View More of the Story
Academic Program
View More of the Story