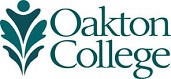 News from Oakton March 4, 2014
Oakton's Nature Project Takes Root at Brickton Art Center
The Brickton Art Center in Park Ridge is buzzing with birds, trees, flowers, and other ecologically themed works displayed as part of The Nature Project, a free showcase featuring works by Oakton Community College art students and faculty. On Friday, March 7, the public is invited to a gala reception from 7 – 9 p.m. The display, at 306 Busse Highway, runs through Saturday, March 29.
The Nature Project emphasizes "going green" and showcases paintings, ceramics, sculpture, photography, and drawings. Lou Pierozzi and Judy Langston, Oakton art professors, curate the exhibition.
"This is a great chance for our art students to get out of the classroom and have their works viewed in the community at a professional gallery," says Langston.
The Brickton Art Center is open Monday through Thursday, 10 a.m. – 5 p.m., Friday 10 a.m. – 4 p.m., and Saturday, 10 a.m. – 2 p.m.
For more details, contact Lou Pierozzi at 847.635.1838 or lpierozz@oakton.edu, or Judy Langston at 847.376.7106 or clouds@oakton.edu.
Romeo and Juliet Opens at Oakton
"O Romeo, Romeo! Wherefore art thou Romeo?" Find out at Oakton's Footlik Theater, 1600 East Golf Road, this week as the curtain goes up for Shakespeare's most famous and frequently performed play Romeo and Juliet.
This stylized and modern telling of the world's greatest love story pulls the characters and audience into a whirlwind of energy, words, and violence. Despite a world screaming out of control, two young lovers find quiet in each other, and try to break an ancient grudge.
The play premieres with a special $5 preview on Thursday, March 6, at 8 p.m.
Regular performances are scheduled:
Friday, March 7, 8 p.m.
Saturday, March 8, 8 p.m.
Sunday, March 9, 2 p.m.
Thursday, March 13, 7:30 p.m.
Friday, March 14, 8 p.m.
Saturday, March 15, 8 p.m.
Sunday, March 16, 2 p.m.
Tickets are $12 for general admission; $10 for students and seniors; and $8 for groups of more. Call 847.635.1900 to purchase.
Launch Your Health Care Career at OaktonCareer opportunities in health care are skyrocketing! Chart your course at free information sessions at Oakton Community College's campuses in Des Plaines (1600 East Golf Road), and Skokie (7701 North Lincoln Avenue) in March.
Physical Therapist Assistant
Tuesday, March 11, at 6:30 p.m.
Room 1610, Des Plaines
Radiologic Technology
Wednesday, March 19, at 2 p.m.
Room C111, Skokie
Health Information Technology
Monday, March 24, at 6 p.m.
Room 1604, Des Plaines
Medical Laboratory Technology
Tuesday, March 25, at 2 p.m.
Room 1610, Des Plaines
Phlebotomy
Tuesday, March 25, at 2 p.m.
Room 1610, Des Plaines
Pharmacy Technician
Tuesday, March 25, at 4 p.m.
Room 1610, Des Plaines
Sign up now as seating is limited! Sessions showcase the College's degrees and certificates in these programs. Faculty will be on hand to discuss course requirements and industry trends.
Reserve your spot by visiting www.oakton.edu/healthcareers or calling 847.635.1700.
Oakton Goes Behind the Veil for Women's History Month
Unveiled, the critically acclaimed one-woman play that focuses on racism, hate crimes, love, Islam, culture, language, and life, comes alive on the Oakton Community College stage Tuesday, March 11, and Wednesday, March 12, as part of the College's celebration of Women's History Month 2014.
Written and performed by Rohina Malik a Chicago-based playwright and actress, Unveiled centers on five very different women in a post 9-11 world who reveal what lies beneath their veils and in their hearts over a cup of tea. The Chicago Tribune describe Malik's work as a "terrific show... intellectually engrossing work of theater."
Free performances are scheduled:
Tuesday, March 11, at 5:30 p.m.
Rooms P103-104, Skokie
Wednesday, March 12, at 5:30 p.m.
Studio One, Des Plaines
Both performances will be followed by a discussion.

The College continues its Women's History Month celebration with an in-depth look at Gloria Steinem, an influential force behind the women's liberation movement. View the HBO documentary Gloria: In Her Own Words, Tuesday, March 25, at 6:30 p.m., at Oakton's Skokie campus (Room P103), and 6:30 p.m., Thursday, March 27, at the College's Des Plaines campus (Room 1610). A discussion follows the free screening; refreshments will be served.
For more information about Women's History Month events at Oakton, visit www.okaton.edu/whm.
Exploring Everything Asian: Oakton Book Discussion Celebrates Korea
Immerse yourself in Korean culture from 11 a.m. – 12:30 p.m., Thursday, March 13, with a discussion about Sung J. Woos' award-winning novel Everything Asian, which offers a distinctive slant on the immigrant story. This free event at Oakton's Skokie campus, 7701 North Lincoln Avenue (Room A151), is part of the community-wide "Coming Together in Skokie and Niles Township," which this year examines ancient and contemporary Korean customs. The series, now in its fifth year, features films, lectures, special events, and more.
Set in 1980s suburban New Jersey, Everything Asian, winner of the 2009 Young Adult Asian Pacific American Award for Literature, tells the tale of a Korean family's first year in the United States with humor and pathos.
For a full list of "Coming Together" events, visit comingtogether.skokielibrary.info.
Make a Joyful Noise: Klezmer Music Comes to Oakton
Learn how the Roma and Jewish cultures intertwine and mirror each other in "A History of Klezmer Music," featuring Terran Doehrer and his revival Klezmer band Ensemble M'chaiya™, on Thursday, March 27, from 11 a.m. – 12 p.m., at Oakton's Skokie campus, 7701 North Lincoln Avenue, Room A145/152. Originally the Yiddish word for "musician," Klezmer now describes the secular music played by Jews at joyful celebrations.
Founder of five ethnic bands, including the Balkan Rhythm Band™ and Ensemble M'chaiya™, Doehrer tours internationally and has performed with many notable musicians, including Macedonian singer Esma Redzhepova and Greek clarinetist James Stoynofff.
This free presentation is sponsored by Oakton's Jewish Studies with a generous grant from Oakton's Educational Foundation. For more information, contact Wendy Maier-Sarti, Oakton professor of history, at wsarti@oakton.edu.