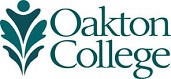 Oakton Robotics Finishes Second in NASA Robotic Mining Competition
(May 25, 2016) Oakton Community College finished second overall in the National Aeronautics and Space Administration (NASA) Robotic Mining Competition, held May 16 to 20 at the Kennedy Space Center Visitor Complex. Oakton Robotics placed among the top three in four different categories, earning second place recognition for social media and engagement in addition to its systems engineering paper. The team finished third in the on-site mining competition and took third place for its outreach project.
"It was a very challenging and daunting contest. The team worked closely together, facing numerous hardships and adversity," said Oakton Robotics Faculty Advisor Angelo Gero, professor of electronics and computer technology.
The 13-member team was one of just two community college teams participating in the competition against 43 other teams from four-year colleges and universities across the country. Teams from Oakton and other colleges designed and built remote controlled mining robots to traverse simulated Martian terrain and excavate regolith, simulated Martian dirt. During the competition, the teams' robots went head-to-head to determine which machine could collect and move the most regolith within a specified amount of time.
Robotics team members were recognized at Oakton's May 24 board meeting and included the following students:
Lachlan Chen (Skokie)

Carlos Cruz (Morton Grove)

Michael Habisohn (Park Ridge)

William Kann (Park Ridge)

Karolina Klimont (Des Plaines)

Mahavish Mahmood (Norridge)

Chris Moirano (Chicago)

Pedro Morales (Niles)

Lynette Sugatan (Niles)

Mohankumar Vegesna (Niles)

Matthew Wasiewicz (Park Ridge)

Shawn Zachariah (Des Plaines)
"I cannot say enough how proud I am of our team. Even if we had not won anything, I still would be proud of our positive attitude throughout the competition," Klimont, the team leader, said.
"Angelo Gero put together the 'A-team,'" Sugatan said. "Everything that could go wrong down in Florida did, and under tremendous pressure, everyone worked harmoniously together, resulting in a NASA-approved robot."
Oakton's team is funded through grants from the Oakton Educational Foundation, Student Government Association and NASA. Last year, Oakton Robotics finished eighth of 46 teams in the competition and received honorable mention for most improved systems engineering paper. The work of that team was the foundation for this year's success.
"Over time we've learned a lot about this robot, and from my experience, I'd say our success and outstanding performance was not just changing a lead acid to lithium ion battery or using the wheels from our 2014 robot-- it was the team's chemistry," Vegesna, the team's mechanical lead, said.
"Programs such as these give our students hands-on training and experience in working on 'messy' problems with no clear solutions," said Oakton Center for Promoting STEM Coordinator Gloria Liu, who was recently named among the nation's 100 Inspiring Women in STEM. "It's about pushing students to the limit, challenging them to push themselves beyond what they thought they could do."
"Joining the robotics team my first semester at Oakton helped me grow as an engineer and a logical thinker. Before I came to Oakton, I would not have been able to lead by any stretch," Klimont added.
"Experiences such as these, plus the life skills developed at Oakton, provide our students a solid foundation to continue in their studies and successful careers," said Oakton Chair of Electronics and Computer Technologies Majid Ghadiri.