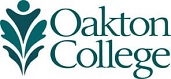 Oakton Owls men's basketball guard named Skyway Conference Player of the Year
(Feb. 28, 2017) Oakton Community College freshman guard Tafari Beckford (Skokie, Niles North High School) notched a prestigious feather in his cap as he was named Illinois Skyway Collegiate Conference (ISCC) Men's Basketball Player of the Year.
In conference play, Beckford could be counted on for a double-double, averaging 21.5 points and 11.4 rebounds per game. The stellar athlete also averaged 5.3 assists and 1.6 blocks per contest in league games for the 2016-17 season.
"Tafari has a rare combination of size, skill, athleticism and mental toughness," said Mick Reuter, Owls head coach. "He is matchup nightmare for opposing teams because he is so tough to guard. Throughout the season, Tafari grew into a leadership role with us and was a big part of our turnaround this year. I'm looking forward to watching his continued development."
Beckford also garnered First Team All-Conference honors along with guard Ryan Matthew (Park Ridge, Maine South). The sophomore captain averaged 15.4 points, 4.5 assists and 4.3 assists per contest for the Owls in the ISCC.
Freshman forward Marion Johnson (Des Plaines, Maine West High School) and freshman guard Pat Hamilton (Northbrook, Glenbrook North High School) were named to the All-ISCC Second Team. Both consistent contributors, Johnson averaged 10.6 points, 6.2 rebounds and 2.4 assists while Hamilton added 13.9 points and 2.9 rebounds per contest in league play.
The Owls still have work remaining on the season as the team (17-13) hosts Black Hawk College (14-15) in the quarterfinals of the National Junior College Athletic Association (NJCAA) Division II District 3 Men's Basketball Tournament on Thursday, March 2. Tip-off is scheduled at 7 p.m., at Oakton's gymnasium, 1600 E. Golf Road Des Plaines.
"We're looking forward to the next part of the season," said Reuter. "Our team will be prepared for an intense battle."