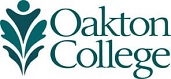 Oakton chief human resources officer receives national award
(April 25, 2017) Wadsworth resident Mum Martens, Oakton Community College chief human resources officer, was recognized with the national American Association for  Women in Community Colleges (AAWCC)  40 Under 40 Award at the American Association of Community Colleges Annual Conference in New Orleans, April 24-25.
"I am humbled by this recognition and to be counted among these 40 outstanding national leaders," Martens says.
Supporting the advancement of women in community colleges is a core value of AAWCC, and the award recognizes outstanding female leaders under the age of 40 working at a community college. Honorees received a necklace engraved with the 40 Under 40 AAWCC insignia.
"We congratulate Mum Martens on being recognized for the strategically-important work she has done in helping Oakton transform its workforce, contract negotiations and talent acquisition," says Oakton President Joianne Smith. "People make the institution. A great institution attracts great people, gives them guidelines, goals, resources and freedom to do their best work.  Mum leads HR as a problem-solver and an exceptional judge of character."
As chief human resources officer, Martens has led Oakton through some of the most tumultuous changes in Oakton's history, including major health care and pension reform, union contract negotiations, disruption in state higher education funding and new Illinois laws regarding the employment of pensioners.  She oversees human resources for both the Skokie and Des Plaines campuses, manages talent search and acquisition, affirmative action, labor relations and contract negotiations with faculty and staff unions, benefits and compensation and training and development.    
"Serving and helping to shape Oakton is my passion," says Martens, who is a member of the President's Council and serves on both the faculty and staff professional development teams. "Education can be a life-changing experience, and I am thrilled to be a part of a community of people who come to work every day to make that happen."
"These 40 rising stars are making a difference for the colleges that they serve," adds AAWCC President Beverly Griffea-Walker.
Martens came to the U.S. as a very young girl with her parents as refugees from the "killing fields" in Cambodia, a time when one in four Cambodians was killed, died of starvation or died in forced labor camps.  Her family was resettled in Macomb, where she learned English, went to school, and eventually graduated with a master's degree from Western Illinois University.
As a girl, she experienced the struggles of an immigrant family in America and was the first in her family to attend college.  Many people helped her along the way, and she channeled a desire to pay it forward in her career. Educated in student development, she transitioned—through further education and hard work—into human resources, which she believed was a better position to strategically influence the institution. With each employment search and new hire, Martens has helped transform the student experience by creating a more diverse, talented, and compassionate workforce.