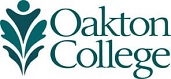 Two Oakton students named to Phi Theta Kappa Illinois All-Academic Team
(April 21, 2017) Oakton Community College students Filza Ali (Chicago, Lane Technical College Prep High School) and Sheetal Singh (Des Plaines, Maine West High School) have been named to the Phi Theta Kappa Illinois All-Academic Team, which was recognized at a dinner Tuesday, April 4, in Springfield.
"I am truly honored to be recognized as an Illinois All-Academic Team member through Phi Theta Kappa. Throughout my educational journey, Oakton Community College provided me with opportunities to pursue academic excellence and engage in leadership activities through Phi Theta Kappa and Muslim Student Association," said Ali, who serves as president of both Oakton student organizations.
Singh earned 2017 New Century Scholar recognition as the state's top community college student, and as such, she had the opportunity to deliver a moving speech to those in attendance.
"It was such an honor to speak to all of the top community college students in the state of Illinois," Singh said. "It was exciting to meet so many community college students and learn of their goals, and it was gratifying to know they gained motivation from my speech."
As the state's top scholar, Singh earned a $2,000 scholarship and will be recognized April 24 during the American Association of Community Colleges Convention in New Orleans, Louisiana.
"This experience has made me much more aware, and has prepared me for when I go down to New Orleans and have the amazing opportunity to represent the state of Illinois and Oakton Community College," Singh added.
Both students overcame adversity in their lives in pursuing their educational goals.
"The support I have received from Oakton allowed me to overcome the adversity," Ali said. "This recognition provides evidence that all students, regardless of their obstacles, can achieve the highest of highs when provided the necessary resources to enable their success. I am thankful for the people and experiences that have led me to receive this award, and I will remember this achievement as a marker of the success I have earned and the success I have yet to achieve in the next chapter of my educational journey."
"Knowing that there is someone out there willing to support me in pursuing my dreams motivates me to persevere through obstacles. I want to leave behind a legacy of my own that would be a source of inspiration and aid for future generations," said Singh, who is founding president of Oakton's Society of Women Engineers and has served student government, the college's Educational Standards Review Board and as a TRiO peer mentor for first generation college students.
Phi Theta Kappa is the premier honor society recognizing the academic achievement of community college students to grow as scholars and leaders. The society is made up of more than 3.2 million members and nearly 1,300 chapters in nine nations.