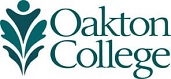 Oakton's art museum to showcase portraits by former Cook County inmate
(May 3, 2017) Oakton Community College's Koehnline Museum of Art will display more than 40 works of Chicago outsider artist Elmer Sanders, May 11 through June 22, at the college's Des Plaines campus, 1600 E. Golf Road. The public is invited to an opening night reception from 5 to 8 p.m.
"This pioneering exhibit introduces an unknown Chicago artist," says Nathan Harpaz, museum manager and curator. "I hope that this public exposure will help unearth new data on this remarkable artist and his career."
The free exhibit, "Elmer Sanders: Rediscovery of a Chicago Outsider Artist," features exhilarating images by the artist produced in the late 1950s and early 1960s. The collection was a gift of Mr. and Mrs. Harlan J. Berk and includes human portraits shaped in black and white with a background design featuring a bold, multi-color scale. Most contain the inscription, "Inmate Cook County Jail, Block E, Tier 3, Arts and Craft Show," and were created with economical resources that include pencils, markers and crayons on paper or cardboard.
Harpaz adds, "Sanders' works included a brilliant mixture of surrealism and expressionism, bright neon colors, semi-abstracted elements and spikey motifs."
Museum hours are 10 a.m. to 6 p.m., Monday through Friday, and 11 a.m. to 4 p.m. Saturday through May 27. Summer hours begin Tuesday, May 30, when the museum is open from 10 a.m. to 7 p.m., Monday through Thursday. For more information, call 847-635-2633, or visit www.oakton.edu/museum.