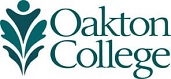 Oakton receives Illinois Green Economy Network award
(May 24, 2017) The Oakton Community College Board of Trustees accepted the Illinois Green Economy Network (IGEN) College Leadership and Sustainability Award at its regular meeting on May 23.
The award—presented to the college at the IGEN annual conference in March—recognizes Oakton as "an outstanding example of a college that embodies the collaborative spirit of the network by leading by example, sharing expertise and resources, and contributing to the collective impact our network has across the state."
Oakton has long been a leader in sustainability. Recent efforts include launching a new environmental studies concentration, preservation and restoration of campus natural areas, diversion of more than 36 percent of waste from landfills, and a student-led initiative to use refillable water containers and eliminate the sale of single-use plastic water bottles on campus.
The college plans to install a new solar array at its Skokie campus in addition to an electric vehicle charging station at the Des Plaines campus during the summer months.
"IGEN is a driving force for sustainability education and sustainable initiatives in our region," said Oakton Sustainability Specialist Debra Kutska. "I am happy to be part of a network of devoted professionals who work tirelessly to enhance opportunities for awareness and innovation for students, employees and our communities."
The IGEN is a consortium of Illinois community colleges, serving schools across the state interested in sharing resources, common experiences, best practices and curricula. The consortium provides a platform to expand the deployment of clean energy technologies, increase employment opportunities, improve environmental and human health, foster community engagement and accelerate market competitiveness. The annual conference brought together more than 70 representatives from 19 Illinois community colleges and their partners to share best practices, lessons learned and successes in advance sustainability across the state through their collective impact.