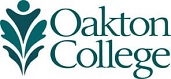 Leadership Award winner Mia Tomasello among 190 Oakton graduates from Des Plaines
(July 5, 2017) Board of Trustees Outstanding Leadership Award winner Mia Tomasello (Des Plaines, Maine West High School) is among approximately 190 spring 2017 graduates of Oakton Community College who reside in Des Plaines.
When Tomasello was in second grade, she was diagnosed with learning disabilities that included dyslexia and ADHD, presenting distinct challenges for her over the years. In high school, she said she didn't find her niche, but that changed when she came to Oakton.
While at the college, Tomasello was involved in numerous activities that helped her come out of her "shell" including serving as an Emerging Leader Mentor, Student Orientation leader and president of the newly-formed Oakton Visual Organization. She also chaired the Student Judicial Board and had roles in three Oakton Performing Arts productions.
"I never thought I would be so involved at Oakton when I started 2014, but now the college is like home," says Tomasello, who recently earned both her associate in arts degree and a certificate in theater. "I was so shy, and it was hard to put myself out there because of my past experiences. However, I changed for the better by attending Oakton as I learned to be myself. Also, I was able to greatly improve my leadership, work ethic and communication skills at Oakton."
Tomasello credits being an orientation leader as being instrumental in her transformation to become more outgoing.
"It was the best feeling to make incoming students feel excited about coming to Oakton," she explains. "My job was to make them feel welcome and have a great time while visiting here. It was often challenging because to do that, I often had to think on my feet."
Manager of Transitions and Persistence Anthony Ramos says the position gave Tomasello the opportunity to spread her wings.
"Just within a few days of joining the program I saw her develop quickly as a leader among her peers," he says. "She was able to tap into her hidden talents, abilities and strengths to be a valuable asset to making students feel comfortable right away. Joining the orientation leader team allowed her to connect deeper with the college community, giving her the confidence to take on new passions and responsibilities."
In fact, that provided the spark for Tomasello to delve into acting.
"After taking some theater classes, I discovered what I really want to do is act," she elaborates. "Acting is another way for me to get out of my comfort zone and learn how to expression a variety of emotions."
Chair of Performing Arts John Frisco, professor of speech and theater, directed Tomasello in the 2016 production of Edward Albee's Pulitzer Prize winning play "Seascape." He says the sky is the limit for her.
"She was a dedicated and talented actress who took on the difficult 'reptilian' role with unleashed creativity," Frisco notes. "Mia was able to explore the many nuances of the character, mastering the challenging movements required in the play. As a director, she was an absolute pleasure to work with and was always eager to learn and improve. She definitely has all the 'right stuff' for a successful theatrical career."
This summer, Tomasello will be directing an original one-act play at "Play On," Oakton's student playwriting festival, July 24-26. She will be responsible for making a comedic drama come to life that focuses on the blossoming friendship of two teenagers.
"This is her second year in the director's chair, and Mia is wonderful in that position because of her enthusiasm," adds festival co-founder Patti Interante, professor of speech and theater. "She also has this incredible knack for soaking up information like a sponge and enjoys learning. Her diligence will take her far in life."
Instead of transferring this fall, Tomasello plans on sticking around Oakton to continue to build up her theater and acting resume.
"I want to audition for more roles in Oakton productions and examine other local theater endeavors," she says. "Also, I want to audition for commercials. Taking a year off will be helpful for my potential career, and then perhaps I can go back to college to eventually teach acting."