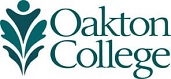 Patryk Swietek among more than 60 Oakton graduates from Glenview
(July 19, 2017) Former student member of the Oakton Community College Board of Trustees Patryk Swietek (Glenview, Glenbrook South High School) was among approximately 64 students from Glenview who graduated from Oakton in spring 2017.
Swietek was recognized as one of five recipients of the Board of Trustees Outstanding Student Leadership Award, which provides each winner a $300 scholarship, at the college's May 16 commencement.
"I am honored to receive a reward and scholarship of this pedigree," says Swietek. "It proves that hard work really does pay off."
Swietek ran his own business while earning a perfect 4.0 grade-point-average. In addition to serving as student trustee, the entrepreneur also was co-founder of Oakton's chapter of Collegiate DECA, an international association of marketing students, where he served as co-president.
"I loved being part of the community at Oakton. It has definitely made me a better student," Swietek says, noting he plans to transfer to the University of Illinois.
He earned a global business certificate from Oakton in fall 2016 and graduated with an associate degree in liberal arts. He studied abroad this summer and eventually hopes to one day lead an engineering or technology business.
"Oakton helped make me a more effective leader and communicator. These are the type of skills that will help me become a successful entrepreneur," Swietek adds.