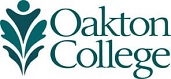 Oakton's Des Plaines campus adds electric vehicle charging stations
(July 10, 2017) Drivers of electric vehicles are now able to charge their cars at Oakton Community College's Des Plaines campus, 1600 E. Golf Road. The dual charging station, installed June 21, is located in Lot D, near the college's LEED Gold certified Margaret Burke Lee Science and Health Careers Center.
"Electric vehicle purchases are growing globally and in the U.S.," says Oakton Sustainability Specialist Debra Kutska. "The addition of this ChargePoint station is just one of the many ways Oakton is reducing its impact on the environment, reducing greenhouse gas emissions by supporting sustainable transportation for students, staff, faculty and the community."
Oakton's charging station works with the use of a ChargePoint account. ChargePoint, which operates more than 30,000 electric vehicle chargers in the U.S., reported that more than 130,000 plug-in hybrid or battery-powered electric vehicles were sold between November 2015 and November 2016, bringing the total number of such green vehicles on the road in the U.S. and Canada to approximately 535,000.
David Arieti, Oakton biology instructor, is one such driver and has the distinction of being the first user of the college's charging station.
"As my field is environmental science, I am honored to work for a college that takes the environment seriously," says Arieti, who drives a Nissan LEAF. "When I found out that Oakton was installing a charging station, I was ecstatic. With electric cars that can get over 200 miles per charge on the horizon, I think the college will eventually need to put in more charging stations."
Oakton Manager of Systems Administration and Operations Dan Ridolfi adds he specifically bought an electric vehicle because of Oakton's station.
"I was in the market for a new car and wanted to get a vehicle that could more efficiently cover my 92-mile round trip daily commute," he explains. "When I learned the stations were coming to Oakton, it was the perfect opportunity to look more closely at hybrid vehicles. I ended up buying a Chevrolet Volt, which was rated 53 miles on a full charge. During the first week of operation of the stations, I haven't had to use a drop of gas."
In addition to reducing use of gasoline, The U.S. Department of Energy offers many other benefits to driving electric vehicles, including lowering America's dependence on imported petroleum and increased efficiency. Drivers of electric vehicles get more miles per kilowatt hour than the equivalent miles per gallon of gas of fuel-based cars.
Oakton's commitment to sustainability is reflected in its mission, vision and values statement in addition to its strategic plan, "Success Matters."
In March, the Illinois Green Economy Network (IGEN) presented Oakton with the College Leadership and Sustainability Award. Recent efforts include the installation of a new solar array at its Skokie campus, launching a new environmental studies concentration, preservation and restoration of campus natural areas, diversion of more than 36 percent of waste from landfills and a student-led initiative to use refillable water containers and eliminate the sale of single-use plastic water bottles on campus.
For more information about ChargePoint, visit www.chargepoint.com or call 1.888.758.4389.