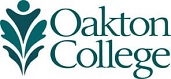 Get in tune with Oakton music classes
(Aug. 3, 2017) Unleash your musical talent and earn college credit this fall at Oakton Community College, 1600 E. Golf Road, Des Plaines. Music courses are available for students of all skill levels. Classes start Monday, Aug. 21.
Classes are offered in the following areas:
Fall semester class listings may be found online at www.oakton.edu or in the "Fall 2017 Credit Class Schedule," available at the Des Plaines or Skokie (7701 N. Lincoln Ave.) campuses.