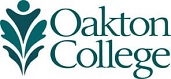 Palaguachi receives Oakton's Living Diversity Award
(Aug. 16, 2017) Franklin Ortega Palaguachi, coordinator of the Association to Nourish and Develop the Advancement of Latinos in Education (¡ANDALE!) at Oakton Community College, is the recipient of Oakton's 2017 Living Diversity Award, embodying the idea of "creating a college environment of equity, inclusion, care, compassion and respect for people of diverse backgrounds and abilities."
The Niles resident was recognized by President Joianne Smith at the college's Aug. 14 kick-off to the fall semester, "Success Matters," after being selected by the Oakton Diversity Council. In addition to a plaque, the award comes with a $1,500 monetary stipend sponsored by the Oakton Community College Educational Foundation.
"Franklin exemplifies Oakton's values, embracing the diversity of the Oakton community and honoring it as one of the college's primary strengths," Smith said. "He has recognized the effects of systemic social injustices and has worked tirelessly designing the Oakton experience to foster success for all students. In addition, Franklin has an unconditional dedication to students and passion for serving in higher education."
Since 2015, Palaguachi has offered support to increase the retention, persistence and success of the college's Latino students. In his duties, he also advocates the personal, emotional, social, academic and career development of all students.
As part of Oakton's access, equity, and diversity efforts, ¡ANDALE! offers various opportunities including workshops, conferences, one-on-one coaching and mentoring, support to transferring to four-year colleges, multicultural events and collaboration with college administration, faculty and community.
"To me, being the recipient of the Living Diversity Award means passion, perseverance, dedication and love for what I do," Palaguachi said. "This honor is dedicated to ¡ANDALE!, a program that also serves first generation college students and those who may come from a low-income background. These students bring different elements of race, gender, ethnicity, culture and values to Oakton. This award is a representation of their hard work and desire to graduate from college."
A former Oakton student, Palaguachi received his bachelor's degree in Latino and Latin American studies from Northeastern Illinois University in 2015. He is currently working toward earning his master's degree in higher education administration from NEIU.