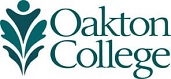 Oakton's Scalise recognized for staff excellence
(Aug. 18, 2017) Rosann Scalise, senior department assistant for Business and Career Technologies at Oakton Community College, is the recipient of Oakton's 2017 Staff Excellence Award, epitomizing the idea of "going above and beyond" actual job responsibilities and using creativity and compassion to serve students and the community.
The Des Plaines resident was recognized by President Joianne Smith at the college's Aug. 14 fall semester kickoff, "Success Matters," after being selected by the Oakton Classified Staff Association for the honor. In addition to a plaque, the award comes with a $1,500 monetary stipend sponsored by the Oakton Community College Educational Foundation.
"Rosann treats each administrator, faculty, student and employee like they are part of her extended family," Smith said. "Her communication skills and professionalism are as good as it gets. However, her enthusiasm for her job and the people she works for goes beyond what could be written into a job description because they are written in her heart. She also embodies our student success mantra. Whenever a student steps into her office, she makes it her priority to assist and follow through on their requests."
In her current role, Scalise trains, guides and assists new and established faculty within Oakton's systems to make sure they are well prepared for the classroom.
"I'm deeply honored to be the recipient of the Staff Excellence Award," Scalise said. "Being appreciated makes me feel extremely special. I just believe in doing my job to the best of my ability. I care deeply about students and the people I work with at the college. Sometimes it's just doing the little things that can make a big difference."
A former Oakton student, Scalise received her office information processing specialist certificate from the college in 1999. She started at Oakton part-time in 1997, when she was hired as an assistant for the Languages, Humanities and the Arts Department. In 2002, she was hired full time at the college and has been serving in her current position since 2008.